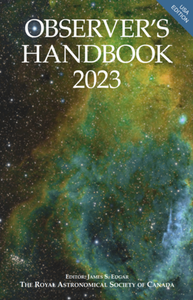 Our Take
This is a great gift for your astronomy geek. They'll love having this handy manual for making sure they don't miss out on any of the upcoming year's best sky events. It also makes a really handy reference for planning observing sessions.
Description
Published annually for over 100 years by the Royal Astronomical Society of Canada, the Observer's Handbook has become the must-have reference book for people interested in astronomy. Whether you are a professional astronomer, a beginner or educator this book is designed for you. The over 350-page guide includes comprehensive information about upcoming astronomical events and references. 
US Edition
The Royal Astronomical Society of Canada now has a US version for our American clientele! This new version will include a Guest Editorial from the President of the Astronomical League, John Goss, plus Robert Kerr of the league will contribute a section describing their activities. Spelling will reflect American usage, and references to Canadian cities will be replaced with US locations. 

Buy risk-free: When it's time to trade up you'll get the most value for your used gear.