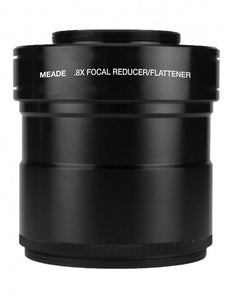 Overview 
For use with Meade's Series 6000 150mm and 130mm APO Refractors
Fully Multi-Coated
Fully Corrected Field: 44mm
.8x Focal Length Reduction
Description
Meade's Focal Reducer/Field Flattener is a fully multi-coated, 3 element design to help the astro-photographer capture wide field photographs of the night sky with the Series 6000 APO's. This Flattener was designed to reduce the focal length of the Meade Series 6000 APO Refractors to expand the field of view with the camera being used. This new Flattener will also optically flatten the image by minimizing vignetting and by yielding pin-point stars to the edge of your photographic frame. Meade's Focal Reducer/Field Flattener removes distortion within the field of view by correcting spherical aberration. With most refractors, deep-sky objects are too difficult and large to fit within the field of view; however, Meade's Field Flattener solves this issue by reducing the focal length 0.8x, which allows your refractor telescope's field of view to increase. Easily attach to your camera with the included M48 x .75 OD-Thread. The Flattener itself can be connected to your telescope through the 2" nose-piece. This Series 6000 3-Element 2" Field Flattener is to be useed for the 115mm and 130mm APO Refractor Telescopes.
Specifications
| | |
| --- | --- |
| Series | Series 6000 APO Refractors |
| UPC | 709942999112 |
| Assembled Product Dimensions | 76.5mm diameter x 78.5mm length |
| Assembled Product Weight | 1.2 lbs (550g) |
| Warranty | 1 Year |

Buy risk-free: When it's time to trade up you'll get the most value for your used gear.