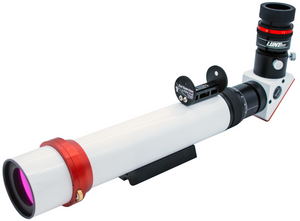 The all new Lunt 40 mm Solar Telescope provides the basic essentials perfect for a first-time introduction to solar observing.
A true grab-and-go dedicated hydrogen alpha telescope, the Lunt 40 mm F/10 system is sure to impress — allowing both amateurs and seasoned professionals to experience the awe-inspiring phenomena of our closest Star!
Easily portable and a joy to use, the Lunt 40 mm joins the Lunt Telescope lineup as our smallest aperture offering, while providing the power, amazing detail and quality you expect from a Lunt Telescope — all at an impressive ~4.0 mm Solar image size!
This scope includes a non-rotating helical focuser, integrated Vixen Style Dovetail and a 5 mm blocking filter for both visual and photography purposes.
Experience the thrill of viewing the Sun's explosive activity with Lunt's entry-level 40 mm Dedicated H-Alpha Solar Telescope. Surface detail, hot spots, prominences and more — all available in the stunning Hydrogen Alpha wavelength.
Description
The New Lunt 40mm Solar Telescope is a F/10 hydrogen-alpha dedicated telescope.
External Full Aperture Lunt Etalon with tilt-tuning adjustment allows for a 0.65 Angstrom bandpass.
Specifications:
System Wavelength: 656.28nm. Hydrogen-alpha (tuneable, dedicated)
System Focal Length: f10
Sun Image Size: 3.67mm
Objective: Precision Doublet (Optimized at 656nm)
Blocking Filter: 5mm standard (upgradeable to 6mm or 12mm)
Etalon Size: 40mm full aperture precision Lunt Etalon
Etalon Peak Transmission: >88%
Etalon Net Finesse: 19
Etalon FSR (Free Spectral Range): 12 Angstroms
Etalon Tuning: Conventional Tilt through +/- 1 Angstrom
Etalon FWHM (Bandpass): <0.65 Angstrom
Weight of Telescope: 2.8lbs
Additional Features:
Integrated Vixen Style dovetail plate (included) with integrated 1/4-20 tapped holes in base for camera mounts
Non-rotating helical focuser (included) (upgrade to FT available)
Sol-Searcher (Included)
DS (Doublestack) available by pre-order soon (Optional accessory) (not included)(Price TBD (~US$499)
Fitted Foam
Color: Pearl White with Black and Red accents
Suggested Accessories: (not included above)
Hard Case (Lunt 40mm/ LS50THa Case)
Lunt Zoom Eyepiece
Lunt 19mm Eyepiece
6mm or 12mm (imaging) Blocking Filter
Doublestack Filter (TBD)
Solar Tracking Mount
Compare:
Bandpass FWHM:

Lunt 40mm (Single Stack): <0.65 Angstrom External Etalon
Coronado PST (Single Stack): Sub-Angstrom <1.0 Angstrom Internal Etalon

Etalon Size: 

Lunt 40mm: External 40mm clear aperture (no obstruction)
Coronado PST: Internal 18mm clear aperture (no obstruction)
Coronado 40mm: External 40mm obstructed

Tuning:

Lunt 40mm: Conventional front mount tilt tune
Coronado PST: Internal Mechanical Compression

Blocking Filter:

Lunt 40mm: 5mm standard, Upgradeable to 6mm or 12mm
Coronado PST: Fixed 5mm, NOT upgradeable

Focuser:

Lunt 40mm: Non-rotating Helical, Upgradeable to Feather Touch
Coronado PST: Internal sliding pentaprism, NOT upgradeable

Sun Finder:

Lunt 40mm: Tele Vue Sol Searcher included (alignable)
Coronado PST: Inegrated Sun Finder (not alignable)

Mount Attachment:

Lunt 40mm: Vixen Style dovetail with integrated 1/4-20 tapped holes for camera mounts included
Coronado PST: 1/4-20 tapped holes in base. Dovetail an added option

Country of Manufacture:

Lunt 40mm: USA (Tucson, Arizona)
Coronado PST: Mexico

Etalon Specification:

There is no comparing Lunt Etalon specifications with any other brand. Other brands simply do NOT provide their specifications. Compare and SEE the difference a Lunt Etalon makes.

Buy risk-free: When it's time to trade up you'll get the most value for your used gear.