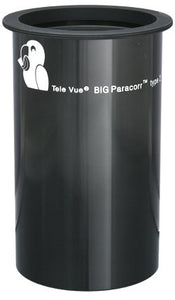 Description
Tele Vue's 3" BIG Paracorr Type-2, designed by Paul Dellechiaie, extends the Paracorr type 2's optical benefits for imaging applications by amateurs and professionals using CCD formats as large as 52mm diagonal and paraboloids as fast as f/3. Back focal length has been extended to 80mm to allow for additional accessories to be placed in the optical path. The 5.1" length optical assembly is topped with a "stop" flange having 3.40"-24 pitch threads to mount camera adapters and spacer tubes (available later).
Visual Use
For dual-purpose photo/visual scopes, a "VISA" adapter (Visual / Imaging System Adapter) accepts the tunable top from the standard Tele Vue 2" Paracorr Type-2. The 2" format is fine visually since secondary mirror size limits maximum exit pupil diameter to around 7mm. The widest true field eyepiece choice with an f/3 (f/3.45 when used with Paracorr) is, therefore, Tele Vue's own 21mm Ethos which delivers a 6.1mm exit pupil at f/3.45.
Imaging with DSLR or CCD Cameras
If you have a 35mm format DLSR or CCD camera, the "VISA" adapter accepts Tele Vue Imaging System accessories.
Adapting BIG Paracorr Type-2 for Visual and Imaging Use with "VISA" Adapter
Big Paracorr Type-2 Visual and Imaging Use with "VISA" Examples

Buy risk-free: When it's time to trade up you'll get the most value for your used gear.