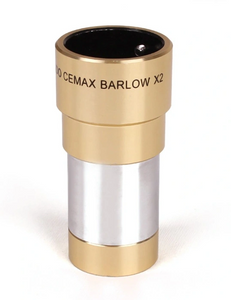 Description
Enhanced fully multi-coated CEMAX 2X Barlow Lens
1.25" Barrel Size
Excellent contrast for planetary viewing
The enhanced fully multi-coated CEMAX 2X Barlow Lens. 1.25" Barrel Size. Specifically designed for use at H-alpha (or Ha) wavelengths, this Barlow uses optimized coatings to enhance contrast, minimize glare and also affords excellent contrast for planetary viewing. Includes lens caps.
Please note: that this Barlow is NOT a filter and for solar observing must be used in conjunction with a Coronado Ha Solar telescope or telescope with a Coronado filter set appropriately and safely mounted.
Warranty:
Limited Warranty against defects in materials or workmanship for two years from date of purchase. This warranty is provided by Meade for the benefit of the original retail purchaser only. For complete warranty details contact Meade at 800-626-3233.
Warning:
Please note this product was not designed or intended by the manufacturer for use by a child 12 years of age or younger.
Specifications
User level: Advanced
Barrel size: 1.25"
Magnification factor: 2
Coatings: Fully multi-coated
Filter threads: Yes
Compression ring: Yes
Warranty: Two year

Buy risk-free: When it's time to trade up you'll get the most value for your used gear.