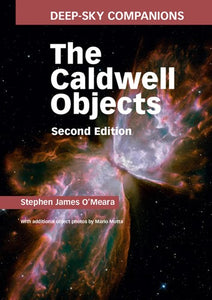 Description
Deep-Sky Companions: The Caldwell Objects
The Caldwell Objects ~ 2nd Edition
By Stephen James O'Meara
Format: Hardcover
The Caldwell Catalogue, compiled by the late Sir Patrick Moore (1923-2012), has delighted amateur astronomers worldwide since its publication in 1995. Twenty years on, Stephen James O'Meara revisits his guide to these 109 deep-sky delights, breathing new life into them and the 20 additional observing targets included as an appendix. This second edition retains O'Meara's detailed visual descriptions and sketches, accompanied by stunning new images taken by amateur photographer Mario Motta and observations by Magda Streicher. The astrophysical descriptions have been updated to account for the many advances in our understanding of the objects, not least due to an armada of space-borne observatories and the new technologies used in large ground-based telescopes. Ideal for observers who have completed the Messier objects and are looking for their next challenge, Deep-Sky Companions: The Caldwell Objects is a fitting tribute from a renowned visual observer to one of astronomy's most famous personalities.
Specifications
| | |
| --- | --- |
| Array | Stephen James O'Meara |
| File/Trim Size | 7.3 x 10.3 |
| Format | Hardcover |
| ISBN 13 | 9781107083974 |
| Number Of Pages | 584 |

Buy risk-free: When it's time to trade up you'll get the most value for your used gear.