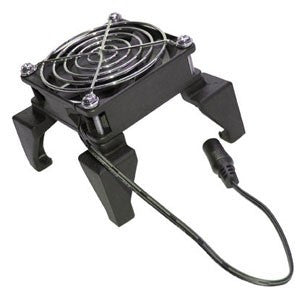 Description
Meade Deep Sky Imager Fan- for all Meade DSI models #04531. The Deep Sky Imager Fan keeps your camera cool and fits all Deep Sky Imager cameras. This clip on fan assembly has been engineered to enhance the air flow and cooling to your camera.
For CCD imaging cooler is always better, and this unit further reduces noise and improves image quality by reducing operating temperature significantly- up to 9° Fahrenheit. Optimize your DSI with this easy to use accessory. Compatible with all Meade Deep Sky Imager models including DSI and DSI Pro cameras.
Includes battery pack with cord for 8 (user-supplied) AA batteries. The DSI fan can alternately be powered from an optionally available Meade # 541 AC Power Supply.
Add this clip on and plug in accessory to your Meade DSI and immediately enjoy reduced noise and improved image quality.
Product carries full one year Meade factory limited warranty.

Buy risk-free: When it's time to trade up you'll get the most value for your used gear.