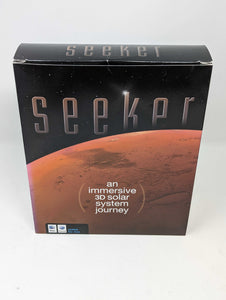 Description
Seeker astronomy software by Software Bisque. This software comes in a box on CDs. Its been sitting in the closet for a LONG time (since some time pre 2010) and we are unsure if it will even still work or be updatable. Because of this we have marked it down to 10% of its current price for a 2023 version.
Software Information
Seeker is a multi-platform (Macintosh OS X Universal and Windows XP/Vista) application that provides an immersive three dimensional simulation of our solar system. Experience simulated "space flight" and explore the Sun, planets, moons, comets, asteroids, interplanetary spacecraft and earth-orbiting satellites with stunning realism.
Seeker takes off from where TheSky6 Astronomy Software ends. TheSky6 is principally earth-based astronomy software; Seeker is a solar system "spaceship-based" software. If you own TheSky, you''ll love Seeker!
System Requirements
Minimum System Requirements:
1.5 GHz or faster processor
Intel Pentium 4, Penium M, Pentium D processor or better, or AMD K-8 (Athlon) or better
256 MB internal RAM
OpenGL 2.0 and later
Windows Vista**, Windows XP Professional or Windows XP Home
NVIDIA GeForce FX 5200 or better graphics card-or-
ATI Radeon 9600 or better graphics card
1024 x 768 display resolution with true color
128 MB (minimum) video RAM
2.5 GB free disc space
DVD drive
Mouse or other pointing device
Keyboard

Buy risk-free: When it's time to trade up you'll get the most value for your used gear.