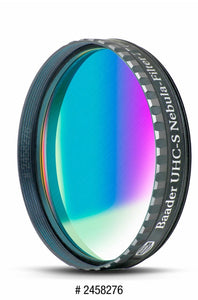 Description
UHC-S High Transmission Nebula Filter - 1.25" (BPUHCS125) and 2" (BPUHCS2)
A new generation of light pollution rejection/nebula filter. Baader Planetarium's unique "golden mean" design transmits sufficient light for even small aperture telescopes while preserving the high contrast of traditional UHC (Ultra High Contrast") filters.
Exactly tailored to block off all of the common streetlight emissions. The sensible alternative to all previous generations of Deep Sky and UHC filters both visually and photographically.
Transmission Curve - PDF document
Extended Transmission Curve

Buy risk-free: When it's time to trade up you'll get the most value for your used gear.