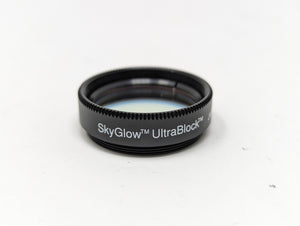 USED GEAR INFORMATION
This filter is in good condition.
Description
The SkyGlow and UltraBlock Series of filters allows light from nebulas and other deep-space objects to pass through them while blocking light from street lights and other undesirable light sources. The SkyGlow Broadband Filter is useful in areas of moderate light pollution like nearby street lights. It blocks the most common undesirable light pollution, while passing other desirable wavelengths such as Hydrogen Alpha, Hydrogen Beta, and Doubly Ionized Oxygen. It is designed for both visual and photographic use.
The UltraBlock Filter is a narrow band transmission filter with very high (99.9%) blocking of Mercury and Sodium emission pollution bands, and very high transmission of critical Hydrogen Beta and Ionized Oxygen. It is most useful in areas of extreme light pollution like cities and busy streets. The UltraBlock Filter is particularly well suited for observing all plantary and emission nebulas. It is not generally recommended for photography.

Buy risk-free: When it's time to trade up you'll get the most value for your used gear.