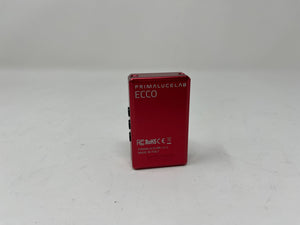 USED ECCO
This ECCO is in good condition. It comes in original packaging.
Overview
ECCO is the Environmental Computerized COntroller for EAGLE that automates the management of dew heaters during long exposure astrophotography. By adding the ECCO module to your EAGLE, it will automatically and continuously monitor the temperature, humidity of the air around your telescope and the temperature of your lenses by calculating the dew point (the temperature below which dew condenses). This way it will vary the heating of dew heaters connected to the appropriate ports avoiding dew to condensate on your optics. This is automatic with an easy to use device. Just connect it to the EAGLE's USB port. For this reason we decided to call it ECCO. In Italian, it means "There you go"!
Description
The EAGLE has 3 0-12V, adjustable voltage power supply ports where you can connect your dew heaters without the need of an external controller. Using the EAGLE Manager software you can activate these ports and manually adjust the voltage to activate the relative dew heater. ECCO instead, thanks to the integration of appropriate temperature and humidity sensors, adds to the EAGLE, dew heater power automatic control: by monitoring in real time the temperature of the optics of your instruments (through the appropriate probes, a maximum of 3 probes are supported), air temperature and humidity (via the sensors included in ECCO body). ECCO calculates the dew point and then automatically adjusts the power of your dew heaters to prevent any dewing!
Plug&Play functionality
We decided to call it ECCO not only because it is the "Environmental Computerized COntroller" but also because it is very easy to use (in Italian, ECCO means "There you go"). In fact, just connect the temperature sensors (to be fixed near the optics of your telescope) and the USB cable to one of the EAGLE USB ports (ECCO is compatible with second generation EAGLE equipped with dew heaters power ports), and press CONNECT button in the EAGLE Manager (it needs EAGLE Manager at least version 2.0). You can see in real time the dew point calculation, the temperature detected by the temperature probes you have installed and the variation of the power supplied by the EAGLE to the dew heaters. ECCO does not require external power supply!
EAGLE Manager starting from version 2.0 supports ECCO with dew point calculation and automatic control of power of dew heaters
Very easy to install 

on your telescope

ECCO can be installed on any finder base like our DX base or Celestron, SkyWatcher or GSO telescopes. It is therefore very easy to connect to your telescope. If you do not have a standard finder base, you can install one of the many optional bases and then connect the ECCO. We designed ECCO as an external module of the EAGLE and not as an integrated instrument because, if it were internal to the EAGLE, its measurements of temperature and humidity of the air would be influenced by the (even if weak) heat created by the EAGLE during use. With an external module, the data recorded by ECCO is incredibly precise.

 
ECCO installed on AIRY refractor telescope, connected to the EAGLE with USB port and with 2 external temperature probes
ECCO installed on a Schmidt-Cassegrain telescope, connected to the EAGLE with USB port and with 2 external temperature probes
Great PrimaLuceLab
design
As with all our products, ECCO offers you innovative features in a product characterized by refined design and high quality construction. Made entirely of 6061 T6 aluminum and produced using CNC machines, ECCO is completely red anodized to increase the strength and durability of the materials. It can also be used as a finder support by adding the optional "Finder support for ECCO". You can install your finder or guide scope above ECCO instead of using guide rings (this is a perfect solution, for example, for small apochromatic refractors and very portable setups).
ECCO used together with the "Guide scope support for ECCO" in order to use a guide scope or a finder.
ECCO dimensions with position of integrated sensors and connectors for external sensors.
ECCO, environmental computerized controller for EAGLE -
scope of delivery
ECCO with connection to finder show

2 temperature probes

Micro USB cable

Buy risk-free: When it's time to trade up you'll get the most value for your used gear.