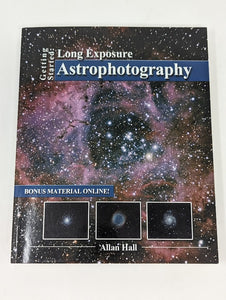 USED GEAR INFORMATION
This book is in like new condition! Strongly recommended for anyone looking to get into astrophotography.
Description
This astrophotography book is a primer and a fully-formed, practical guide for entering the world of long exposure astrophotography. Allan Hall's Getting Started: Long Exposure astrophotography brings the rewarding pursuit of stellar imaging to your bedside table. With academic flare and his signature approachability, Hall utilizes a suite of formats to provide readers with everything they need to begin - and develop, all while avoiding as much of the technical jargon and math as possible. From charts, images, purchasing guides, walkthroughs, and detailed descriptions, this Getting Started title is an in-depth resource for today's astrophotographer at any level of their discipline.

Leading up to an incredibly useful list of the first twenty-five objects an astrophotographer might image with long exposures, this Getting Started title also offers a range of equipment advice and grounded descriptions of why certain phenomena occur - as well as what they will mean for you and your shoots.

Though founded in the clarity and precision of science and photography, astrophotography can nonetheless be one of the most artistic and even sensual crafts, as well as one of the most daunting. A road map is essential when pursuing a rich experience of imaging and cataloging the night sky. Getting Started: Long Exposure Astrophotography, with over 200 illustrations, images, charts, and graphs bolstering its clear and instructive text, takes readers from practical equipment purchases, savvy preparations, and understanding of heavenly bodies, with the proper - and smart - ways to capture their breathtaking beauty.

From purchasing your first astrophotography telescope, hooking up your camera, taking long-exposure images, and finally, processing that finished image, this book is rich with provisions and tips. Hall expertly balances his own procedures with general and inclusive guides from set-up to software recommendations.

In this book you will learn:
The difference between long and short exposure astrophotography

What equipment you may need

How different equipment compares

How to set up your equipment

Making your equipment work together

What software you might need

Different types of exposures (pictures)

What might affect your exposures

Taking exposures

Processing exposures

Putting it all together

And much more!

So, if you have ever wanted to take photographs of glowing nebulae, spiral galaxies, and shimmering star clusters, this is the reference you want on your desk as well as with you out under the sky.

A journey begins, with Hall exploring in-depth details of field rotation and focusing methods, as well as explaining not just the what and how, but the ever-important why. So you won't just follow instructions for multiple image stacking, you'll understand the effect and craft of it.

For today's astrophotographers, access is key. Encouragingly, there is more than ever in many ways. From the quality of the equipment that you can purchase to the ready availability of software and meteorological information, it's a photographer's dream in many ways. Let this unprecedented scenario work for you, whether you're looking to take your first photos or enhance your development as a long-exposure cosmic curator.

From start to finish, Allan Hall's Getting Started: Long Exposure Astrophotography book is your comprehensive resource, taking you from entrance, to expertise in the rewarding field of astrophotography - with a focus on the long exposure element that makes for such memorable, lifelong pieces of photography.

More like a friend sitting beside you, guiding you, than a textbook, see why thousands of astrophotographers have used this book to get started in their journey into long-exposure astrophotography.

Buy risk-free: When it's time to trade up you'll get the most value for your used gear.