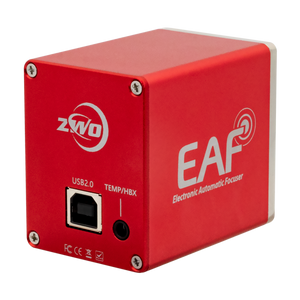 Product Description


Introducing 5V EAF, the upgraded version of the original ZWO EAF. This electronic focuser enables precise, dynamic focus control for planetary and deep-sky imaging.
Features:
Highly integrated design
Support ASCOM platform and various ASCOM-compatible third-party software
Support INDI
Support original software such as ASIAIR and ASIStudio
Support automatic focusing for DSO imaging
Support handle controller and manual focusing
Support temperature sensor
USB HID device and drive-free
Stable and durable
Compared to its old version, the main change of 5V EAF is to remove the 12V power supply port. Now you can directly connect it to your camera, laptop or ASIAIR PRO via the USB 2.0 port & cable for both data transmission and power supply. This would not only make the cable management much easier, also effectively reduce the supply pressure.
The innovative pattern on the EAF is inspired by the changes of Airy disk during focusing and the focusing curve, which makes it clear at a glance how this focuser works.
There are two variants of the 5V EAF:
Standard Version: EAF body, flexible coupling, motor bracket, USB2.0 cable.
Advanced Version: EAF body, flexible coupling, motor bracket, USB2.0 cable, hand controller, temperature sensor.
You could purchase the standard version first, and then buy other accessories to upgrade.
The casing of the hand controller uses environment-friendly ABS material.  It has a 3.5mm female socket. You will have a very comfort grip when you touch its ergonomic design!
The hand controller provides an easy method of focusing the telescope, featuring IN and OUT buttons, a 2-line display, slow and fast speed rate control.
A "must-have" option for EAF users!


Support list:
SkyWatcher Astrophotography Reflectors, SkyWatcher Black Diamond, SkyWatcher Dobsonians, SkyWatcher Maksutov-Newtonians.
SharpStar telescopes,
SkyRover telescopes,
TS Optics,
Astro Tech,
Feather Touch,
Please be aware that not all modules from the brands above are supported.  You can read this instruction for the full supported list and the connection methods:
ZWO EAF Compatible Focuser List & Connecting Methods
More focuser will be supported in the further. Please stay tuned.
Parameters:
Size: 59mm x 52mm x 41mm
Moter: Step moter, 35mm diameter, 7.5° step angle
Reduction ratio: 120
Power/Data port: USB2.0 port, Type-B
Weight: 277g
Capacity: 5kg
Connecting diagram
Mechanical diagram
What's in the box

?

Buy risk-free: When it's time to trade up you'll get the most value for your used gear.