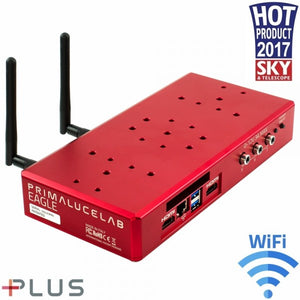 Overview
Thanks to the innovative design protected by European Patent EP3335078, you will no longer need an uncomfortable laptop, large batteries and lengthy cables to control and power your telescope. The EAGLE is much more than a computer!
EAGLE3 PRO is the most powerful version of the EAGLE3 and, thanks to i5 2,6 GHz Dual Core processor (with Turbo Mode up to 3,5 GHz), 16 GB fast RAM memory and increased storage space (SSD 500 GB) offer even more power for very complex applications! All in a lightweight, compact and designed to be installed IN your telescope and that comes with all the advanced features of EAGLE3.
Description
EAGLE3 PRO offers the same advanced features of EAGLE3 (remote control, 8 USB ports, 7 power out ports, etc) but with an even faster processor, more RAM memory and a larger SSD disk. Everything to offer a very high computing power making the EAGLE3 PRO perfect also for the most demanding applications.
Specifications
PERFORMANCE

 COMPARISON WITH A MINIPC:

Not only EAGLE3 offers exclusive features for advanced astrophotography, but also all the power of a real computer (superior to a Mini PC) to allow you to use any astrophotography software. In order to test its performance, we used PCMark benchmark and compared EAGLE3/ EAGLE3 Q/ EAGLE3 S / EAGLE3 PRO with one of the many cheap Mini PCs on the market (where we installed the same EAGLE3 operative system for a precise results comparison). As you can see in the picture below, EAGLE3 offers 32% more performance than a common Mini PC with Intel Celeron N3160 processor, 4GB of RAM and SSD disk; EAGLE3 Q raises at +52%; EAGLE3 S still raises the gap by bringing this difference to 82%; EAGLE3 PRO boosts everything to a wonderful +130%!

EAGLE: Apollo 11 lunar module
The Apollo Lunar Module (LM), originally designated the Lunar Excursion Module (LEM), was the lander portion of the Apollo spacecraft built for the US Apollo program to carry a crew of two from lunar orbit to the surface and back. EAGLE is the name of Apollo 11 lunar module that, on July 20, 1969,  landed the first humans on the Moon, Americans Neil Armstrong and Buzz Aldrin.
from: Wikipedia (picture: Eagle LEM on the Moon - NASA Apollo Archive)

Buy risk-free: When it's time to trade up you'll get the most value for your used gear.