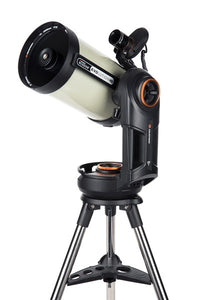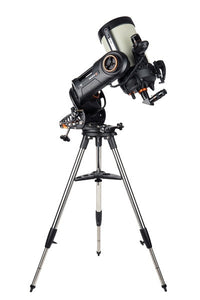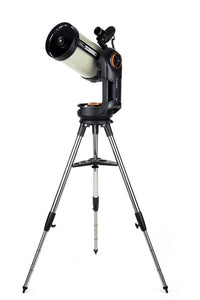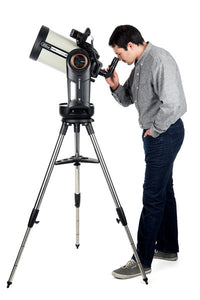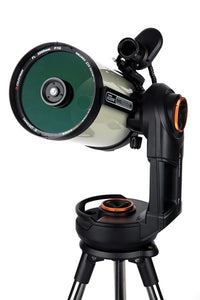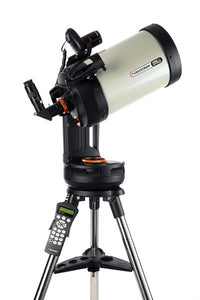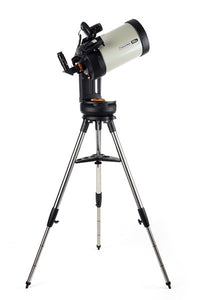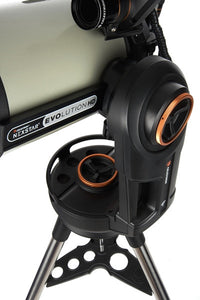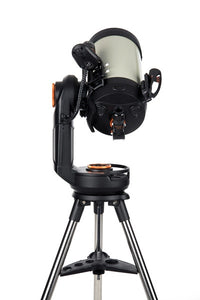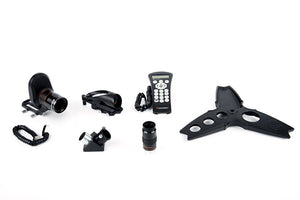 New to telescopes?
We have lots of stuff to get started!
Looking at the Planets?
Try these!
Looking for Urban Viewing?
Try these!
Description
The most user-friendly telescope ever
Evolution HD brings together Celestron's three most innovative technologies: razor-sharp Edge HD optics, WiFi telescope control, and StarSense AutoAlign. With this incredible new telescope system, you'll enjoy stunning views and superior imaging performance, all controlled from your smartphone or tablet.
Become an instant astronomer, even if you've never used a telescope before, with the one-of-a-kind StarSense AutoAlign. Just set up the accessory, push the Align button on the hand control, and StarSense begins capturing and comparing images of the night sky against its internal database. In about three minutes, it's gathered enough information to triangulate its position and align itself. Then, press the Sky Tour button: StarSense will automatically slew to all the best stars, planets, galaxies, and more currently visible in the night sky.
Explore the Universe and control your NexStar Evolution telescope with the free Celestron SkyPortal app for iOS and Android!
Compact, portable 8-inch f/10 Schmidt-Cassegrain optical tube with StarBright XLT optical coatings and Fastar compatibility
Edge HD optical design fully corrects for coma and field curvature, delivering a truly flat field
Built-in tube vents with integrated 60 micron mesh filters allow hot air to be released behind the primary mirror
Fastar compatible tube comes with removable secondary mirror for fast f/2.8 imaging
No need to identify or locate any star in the sky–StarSense automatically aligns your telescope, so you can begin observing in minutes
Rechargeable lithium-ion battery with enough power for 10 hours of continuous observing
Aligns in 3 minutes or less
Provides advanced mount modeling—align on numerous stars throughout the sky for extremely precise GoTo pointing accuracy
Autoguider port for long exposure imaging
Works with optional wedge accessory for long exposure astrophotography.
High-performance brass worm gears and motors for improved tracking accuracy, along with reduced gear backlash
Celestron engineers designed NexStar Evolution based on years of customer feedback. It offers many thoughtful design features that combine to provide you the best possible experience out under the stars.
Forget about batteries or an external power supply. For the first time ever on a consumer telescope, NexStar Evolution includes its own built-in battery. With this ultra-long life lithium-ion phosphate battery, you'll be able to enjoy stargazing marathons up to 10 hours on a single charge. You can even use NexStar Evolution's USB charge port to top off the other devices in your life that need to stay powered on during an observing session. An intelligent power management system senses when battery levels are low and goes into power-saving mode to keep your telescope running for as long as possible.
Setting up your NexStar Evolution is quick and painless with large, ergonomic handles. The all-metal tripod features a metal accessory tray with indentations for storing and carrying the tripod. During setup, leg etchings help you achieve a level, uniform height for your telescope. Manual clutches in both altitude and azimuth offer greater flexibility to manually point the telescope when powered off. Store up to 7 eyepieces in 2 accessory trays, one with an adjustable red LED illuminator.
Superior tracking fit for astroimaging
If you're interested in astroimaging, the 8-inch NexStar Evolution is an excellent, affordable way to get started. It's the only fork-mounted telescope in its price range that offers brass worm gears, along with improved motors. NexStar Evolution's tracking accuracy is so impressive, you can capture images of deep-sky objects like the Orion Nebula by simply attaching your DSLR camera. As you progress in the hobby of astroimaging, you can add our Pro HD Wedge to achieve longer exposures for more detailed astrophotos.
Of course, the Schmidt-Cassegrain optical system offers bright, sharp views with StarBright XLT optical coatings—a great choice for visual observers and budding astroimagers alike.
NexStar Evolution is equipped with 4 auxiliary ports--2 on top of the fork and 2 on the bottom. A classic NexStar+ hand control is included, but is not necessary when using NexStar Evolution with the mobile app. The telescope also includes a StarPointer finderscope, two 1.25" Plossl eyepieces, a 1.25" star diagonal, and an AC adapter.
Specifications
| | |
| --- | --- |
| Optical Design | Schmidt Cassegrain |
| Aperture | 203.2 mm |
| Focal Length | 2032 mm |
| Focal Ratio | 10 |
| Focal Length of Eyepiece 1 | 40 mm |
| Focal Length of Eyepiece 2 | 13 mm |
| Magnification of Eyepiece 1 | 51x |
| Magnification of Eyepiece 2 | 156x |
| Finderscope | StarPointer Pro |
| Star Diagonal | 1.25" |
| Mount Type | Single Fork Arm Altazimuth |
| Tripod | Stainless Steel |
| Power Requirements | Internal battery included |
| HIghest Useful Magnification | 480x |
| Lowest Useful Magnification | 29x |
| Limiting Stellar Magnitude | 14 |
| Resolution (Rayleigh) | 0.69 arc seconds |
| Resolution (Dawes) | 0.57 arc seconds |
| Light Gathering Power (Compared to human eye) | 843x |
| Secondary Mirror Obstruction | 2.5 in (64 mm) |
| Secondary Mirror Obstruction by Area | 9.77% |
| Optical Coatings | StarBright XLT |
| Optical Tube Length | 17 in |
| Total Telescope Kit Weight | 40.6 lbs |
| Max Slew Speed | 4 degrees per second |
| Tracking Rates | Sidereal, solar and lunar |
| Alignment Procedures | SkyAlign, 3-Star Align, Solar System Align |
| Communication Ports | 1 hand control and 3 aux ports for optional accessories |
| App Database | Over 120,000 including 220 of the best deep sky and solar system objects |
| USB Charge Port | Yes |
New to telescopes?
We have lots of stuff to get started!
Looking at the Planets?
Try these!
Looking for Urban Viewing?
Try these!

Buy risk-free: When it's time to trade up you'll get the most value for your used gear.