Description
ESATTO 3,5" LP is the most advanced yet affordable low profile robotic focuser specially designed for the most demanding astrophotography! At just 32mm of thickness, ESATTO 3,5" LP provides a large 90mm free aperture with 10mm of travel, impressive 10 kg of payload capacity and an astounding resolution of 0.01 microns per step! ESATTO 3,5" LP has been designed for telescopes with little available backfocus, requiring a low profile focuser - Great for astrographs! And like all the other ESATTO focusers, it comes with a USB-C port to let control it from your EAGLE or any Windows computer, ARCO port to let you connect to ARCO rotator, temperature probe port, WiFi connection to let you wirelessly control with a smartphone or tablet and dimmable LED lights!
Searching for the best low profile motorized focuser with high payload capacity and large free aperture? The ESATTO 3,5" LP is the solution for all telescopes that, like astrographs, have low backfocus! The ESATTO 3,5" LP comes with all the most advanced technologies included in all our ESATTO focusers: USB-C port, ARCO rotator compatibility, WiFi connection, many optional cameras and telescopes adapters and PLAY astrophotography software!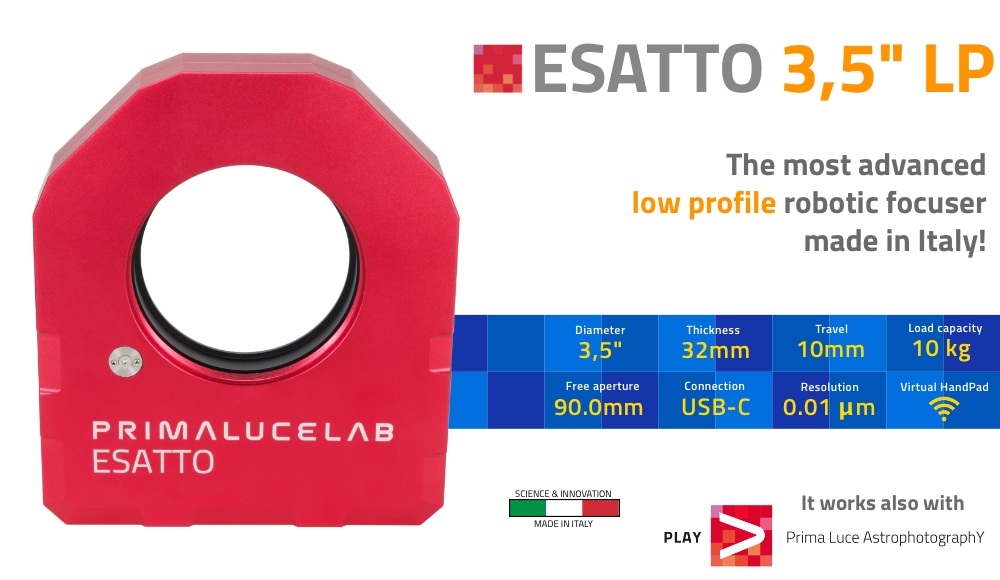 ESATTO 3,5" LP low profile robotic focuser -
main features

:

- Special low profile design for high load capacity (up to 10 kgs) and precision.

- Low profile with only32mm thickness.

- 10mm focuser travel with an incredible resolution of 0.01 microns per step!

- Special optional adapters to easily connect to many different telescopes.

-Remotely controlled from EAGLE or any Windows computer, with dedicated control software or ASCOM drivers.

-USB-C connector offering greater reliability and can be connected to any USB type port with the included cable.

- Remote control with WiFi from any smartphone, tablet or computer and ESATTO Virtual HandPad app for visual use!

-Many threaded camera adapters with stop ring on the camera side to rotate and keep the camera in the optical axis.

- ARCO port to easily connect the ARCO camera rotator and field de-rotator to the ESATTO without the need for additional USB or 12V power cables.

- Weight: 1150 gr.

 

 

 

 
The best
 low profile

 robotic focuser

The ESATTO 3,5" low profile robotic focuser has been designed to meet the most demanding requests of telescopes with low backfocus, like many astrographs. This way, with a body thickness of just 32mm, you can take advantage of a motorized focuser with a very large 90.0mm free aperture that is able to carry up 10 kg of imaging accessories.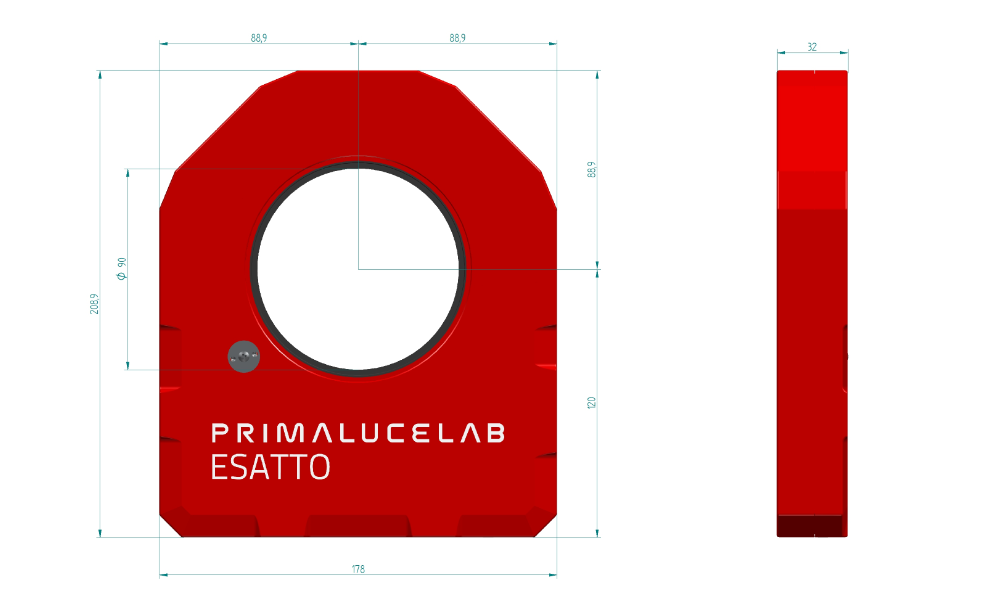 Designed to give your telescopes the
best performances

for astrophotography

The special design gives ESATTO 3,5" LP an impressive 10 kg (22 lb) of payload capacity with the focusing smoothness that is required by modern astrophotography techniques (eg. autofocusing with V-curve). ESATTO 3,5" LP has a draw tube with 90.0mm of free aperture, and 10mm of travel, offering to an incredible resolution of 0.01 microns per step!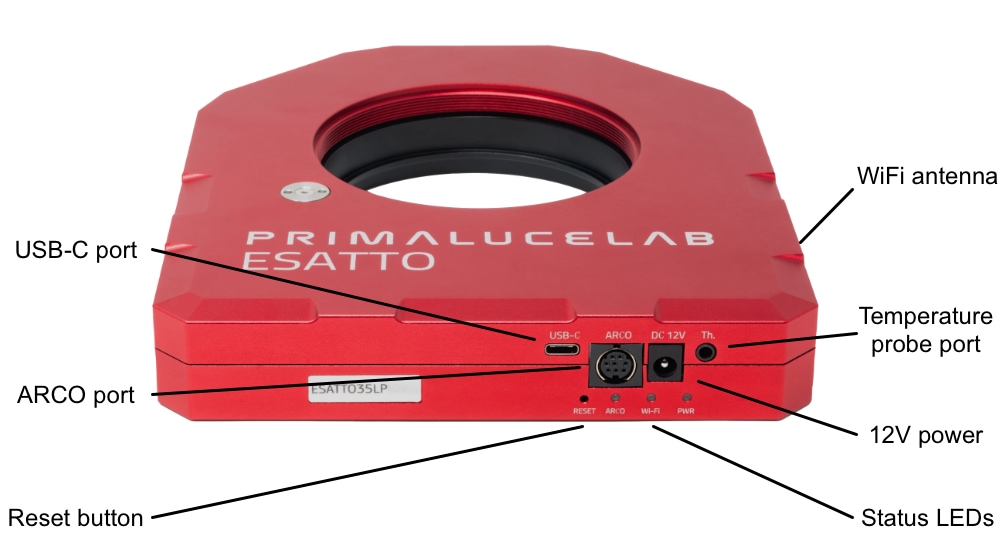 It comes with
PLAY, the Prima Luce AstrophotographY software

.

ESATTO 3,5" LP comes with PLAY, the all-in-one and easy to use astrophotography software that allows you control your focuser and easy remote operation, to let your telescope take advantage of all the latest technology in astrophotography. ESATTO comes with a sturdy USB-C port (which you can connect to any USB type port thanks to the cable included in the box) to connect to EAGLE or any Windows computer (tested with Windows 10 computers). PLAY allows you to configure your telescope by selecting OTA and mount type and by connecting to any camera, autoguider, mount, or filter wheel that is has an ASCOM driver (tested with ASCOM platform 6.4 and later). And if you install PLAY on an EAGLE computer, it automatically adds more advanced features!

 

 

 
Many adapters

 available to connect to telescopes and cameras

ESATTO 3,5" LP draw tube travel moves on the telescope side and different optional pre-made adapters are already available to connect to different telescopes. If you can't find the adapter for your telescope, in the user manual you find the dimensions of the telescope side adapter so you can manufacture your custom adapter. On the camera side, ESATTO 3,5" LP has a M98x1 female thread and, through a complete series of optional camera adapters with stop ring, it allows you to directly connect cameras or to the ARCO rotator. The stop ring allows you to lock the camera at a precise angle to better frame the object.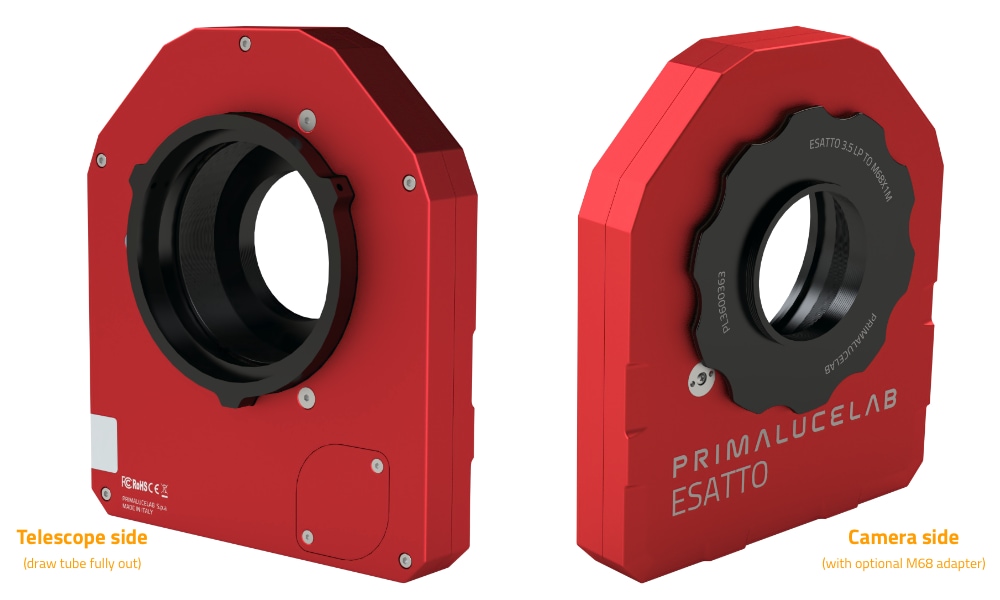 Connect with a single cable to 
ARCO

 to remotely control also the

 camera rotator and field de-rotator

ESATTO includes a special port allowing ARCO, the camera rotator and field de-rotator, to be directly connected. With ARCO, you can remotely control the rotation angle of your camera in order to achieve perfect framing of the object you want to record. If you have an alt-az mount, you can use ARCO to de-rotate the field without the need of an equatorial wedge! By connecting ESATTO 3,5" LP to ARCO 3" you will have a rotating focuser in just 58.5mm of thickness and 76.3mm of free aperture.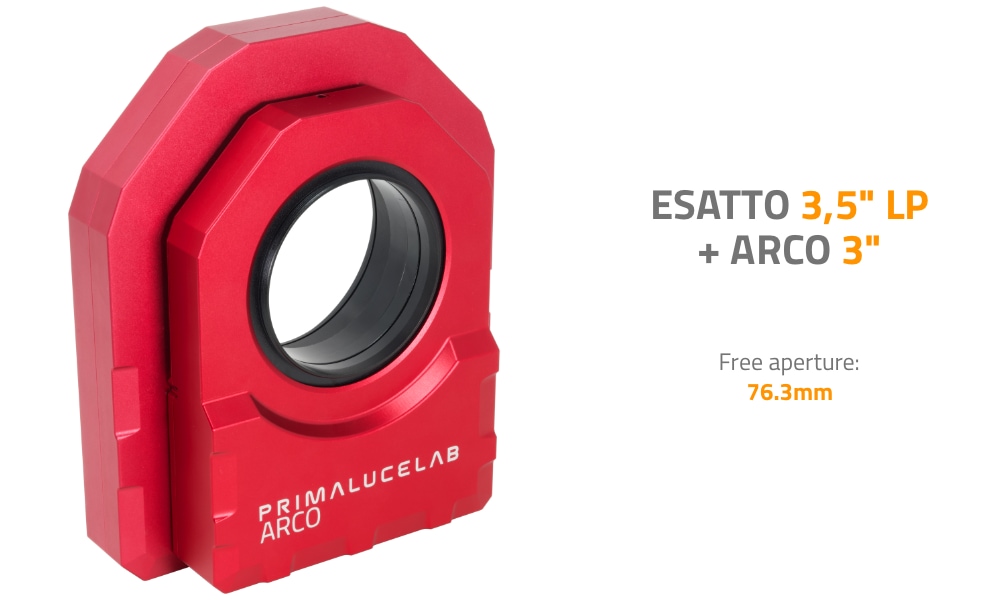 Buy risk-free: When it's time to trade up you'll get the most value for your used gear.