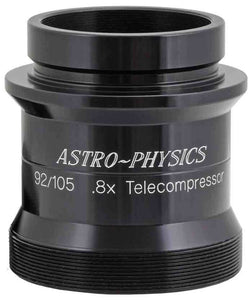 Description
The 92 Stowaway's Telecompressor Corrector (92TCC) is used to provide 0.80x image reduction while correcting the field curvature that is inherent in all refracting telescopes. It will provide pin point stars to the very corners of an APS-C camera sensor. It has a corrected image circle of approximately 40 mm.
To make your imaging convenient and precise we have incorporated a circular dovetail system into our modern flatteners and TCCs that we call the "DoveLoc". Three uniquely machined thumbscrews pull the flattener or TCC into a tight and secure lock that makes the optics perfectly orthogonal. What adds to the convenience of the DoveLoc is that loosening the thumbscrews allows your camera to be safely rotated for image composition.
We produce adapters for the popular Canon EOS and Nikon DSLR cameras (DSLR25EOS & DSLR25NIK). If you have another DSLR camera or CCD camera system, then we recommend having a custom adapter made through Precise Parts. the Build-An-Adapter tool has the information that you need and is easy to use.
The Stowaway uses a very robust 2.5" focuser, however we caution against hanging a large and heavy CCD camera from the optical train. It is a small scope and meant to be portable and fun!
Machined aluminum covers are included.
Specifications:
Image circle: 40 mm diameter
35 mm format: 4.2 x 2.9 degrees
Focal ratio: f/5.3
Focal length: 488 mm
Backfocus spacing: 2.52" (64.1 mm)
Rear thread for adapter: 2.740" x 24 (male)

Buy risk-free: When it's time to trade up you'll get the most value for your used gear.