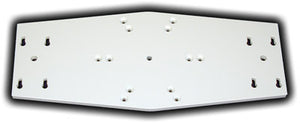 Description
For Astro-Physics 900, 1100, 1200, 1600 and Mach1GTO  Mounts
This larger machined aluminum plate is available for the Mach1GTO, 900, 1100, 1200 or 1600 mounts. It is 18" long and 7.5" at its widest point in the center. The width of the plate tapers to 5.5" at each end. Four pairs of keyhole slots that measure 3.2" between centers are provided. The two inner pairs are 13.75" apart and the outer two pairs are 17" apart. You can drill additional holes to suit your needs. The plate weighs 6.2 lb. (2.8 kg.).
If you use the innermost holes, you have the option of using the 15" Dovetail Plate (DOVE15, now discontinued) as an accessory plate on top of your Astro-Physics mounting rings. 
Please Note: While the 18" Flat Mounting Plate will fit on the Mach1GTO without a problem, you should carefully consider whether the mount is being overloaded. If your instrument is so big that it requires the FP1800, it is probably too big for the Mach1GTO.

Buy risk-free: When it's time to trade up you'll get the most value for your used gear.