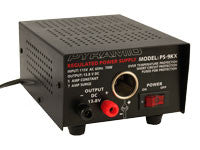 Description
For individuals wanting to use household current, we have a 115 volt AC converter that puts out 13.8V DC at 5 amps. This voltage-regulated unit should serve most users' needs. It has protection circuitry to guard your valuable equipment. It is not recommended for extremely cold climates where a higher voltage is needed for satisfactory mount performance. If you are powering several devices like dew heaters, cameras and motorized focusers, we would advise you to have one converter dedicated to the mount only, and one or more for your accessories.
Specifications
Input: 105 to 125 volt 60 Hz AC
Output: 13.8 (+/- 0.3) volt DC; 5 amp continuous, 7 amp peak
Output Ripple: 150 mV RMS
Operating Temp. 32° F (0° C) to 104° F (40° C)
3 1/4 H x 4 7/8 W x 7 1/4 D; 5 1/2 lb.
For those of you travelling internationally: According to Pyramid, you MUST transform 220 volt 50 Hz current to 115 volts before using this power supply. They say it will operate at the proper voltage at either 50 or 60 Hz, but at 50 Hz AC input, the unit will provide slightly less amperage. We have not tested this assertion from Pyramid.

Buy risk-free: When it's time to trade up you'll get the most value for your used gear.