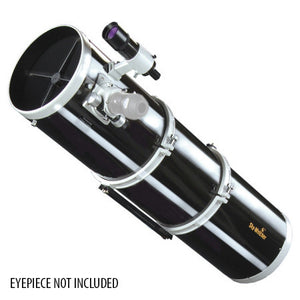 If you select SkyWatcher Free Shipping when checking out, this product will ship directly from the manufacturer and will not come from our stock.
This item is currently backordered from the manufacturer. Please call or email to inquire about delivery lead times.
Quick Overview
254 mm Newtonian reflector
1200 mm (f/4)
Fully multi-coated borosilicate mirrors
2" dual-speed 10:1 linear power focuser
8x50 finderscope
Tube rings with D-style dovetail bar
Description
f/4 Optics
The Quattro's super-fast f/4 optics allow for short, wide- field exposures. And with our award-winning Sky-Watcher optics you're images will be bright and contrasty
Large, Inexpensive Aperture
With 8-, 10- and 12-inch versions, there is a Quattro for any application or pocketbook
Coma Corrector
To pull every photon of performance out of your Quattro there is an optional coma corrector designed to operate with the Quattro optical system
The Sky-Watcher line of Quattro imaging Newtonians are ultra-fast and incredibly simple to use. The f/4 optical system allows the user to capture an image over six times faster than using an f/10 system, giving you the ability to acquire more images in less time. The Newtonian optical design is one of the most basic, and therefore trouble free, systems available to astrophotographers.
The large apertures of the Quattro line provides resolution of finer detail than smaller, fast refractors. For visual users, the large aperture provides the ability go deeper into the night sky and see fainter objects while still providing a wide field of view.
Also available for the astroimager is the optional f/4 coma corrector. This four-element ED corrector removes the annoying comet-like flair common with parabolic mirrors.
The Quattro line comes complete with 2-inch dual-speed linear focuser, 8x50 finderscope, mounting ring and dovetail bar.
 Specifications
| | |
| --- | --- |
| | |
| | |
| | |
| | |
| | |
| | 2-inch dual-speed linear track with 1.25-inch adapter |
| | |
| | Fully multi-coated, 94% reflectivity |
| | |

Buy risk-free: When it's time to trade up you'll get the most value for your used gear.