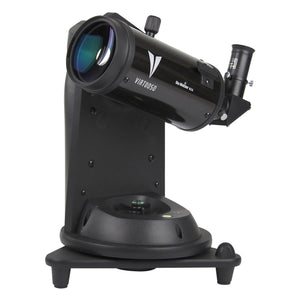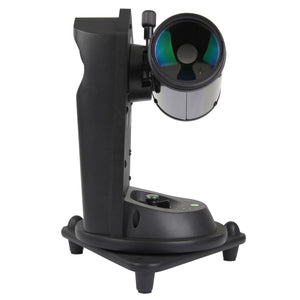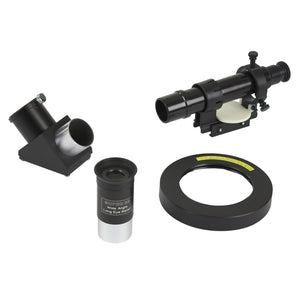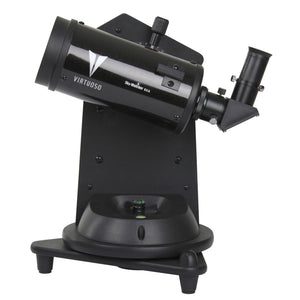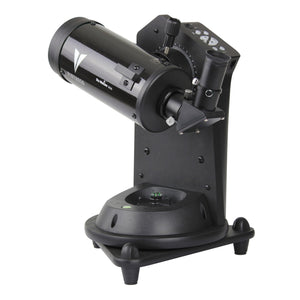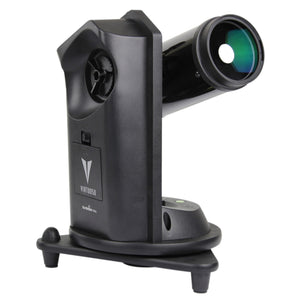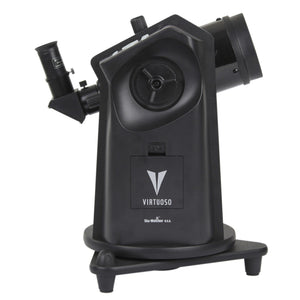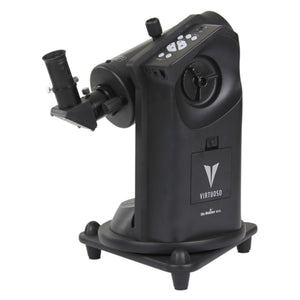 Looking at the Planets?
Try these!
Going on a trip?
Try these!
Looking for Urban Viewing?
Try these!
If you select SkyWatcher Free Shipping when checking out, this product will ship directly from the manufacturer and will not come from our stock.
The Virtuoso is the very definition of portability and get-up-and-go observing for both night time and solar observing. This tabletop battery operated telescope comes with everything you need for solar observing. The slip-on solar filter produces a white light image, allowing you to see the sun's surface and any sunspot activity. It will also let you safely watch the eclipse from start to end.
Staying mobile for the eclipse can help increase your chances of dodging any clouds or weather that are not cooperating. This scope can be setup and ready to view even on the roof or hood of your car in a matter of seconds. For quick observing you can use the motorized mount to slew to the sun or night time target as needed. This 'scope also can be leveled and aligned to track objects with just a little more setup time, and with the included encoders, can keep alignment even after you move the mount by hand.
This really is the epitome of quick setup and ease of use!
Overview
90 mm Maksutov-Cassegrain
Multi-function motorized alt-azimuth mount
Solar filter
Solar finder
5x24 finderscope
Mounting bracket
Bracket for DSLR, camcorder and cell phone
10 mm and 20 mm 1.25" eyepieces
1.25" Star Diagonal
Description 
Panoramic Photos and Panning Video
Create panoramic images easily by attaching your DSLR, point-and-shoot camera or cell phone, or attach your camcorder to record panning video with up to six programmable stop points.
Camera, Video and Cell Phone Mount
Included brackets with the Sky-Watcher Virtuoso mount make it possible to use a variety of devices to capture the world around you.
White Light Solar Filter
Observe the Sun with the included white light solar filter and solar finder scope
Using the same precision technology that allows telescopes to track tiny stars across the sky, the Virtuoso Versatile Mount is a powerful tool for photographers and videographers alike. This super steady mount can capture stunning panoramic photos or smooth panning video. You can use Virtuoso with just about any camera or camcorder, from your DSLR to your iPhone. We've also included a 90 mm optical tube and two eyepieces for astronomical observing.
FEATURES
Motorized alt-azimuth mount
Dual Axis Encoders allow you to move the mount by hand without losing alignment
Mounting bracket for digital cameras, camcorders and cell phone
Shutter release cable compatible with Canon Rebel EOS DSLR
Automatic shutter release functionality for Canon Rebel EOS DSLR cameras
Solar filter and solar finder included for safe viewing of the Sun
Requires 8 AA batteries (not included)
 Specifications
Assembled weight (pounds)
Looking at the Planets?
Try these!
Going on a trip?
Try these!
Looking for Urban Viewing?
Try these!

Buy risk-free: When it's time to trade up you'll get the most value for your used gear.