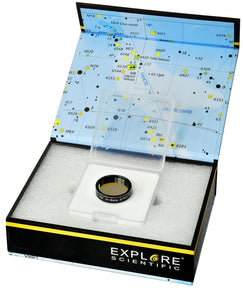 Description
The neutral density filter transmits light uniformly across the entire visual spectrum. It serves as an excellent filter to reduce glare and irradiation when observing the Moon with any telescope 4"(10.2cm) and larger. The ND96 filter may also be employed in the splitting of close double stars where one of the binary pair significantly exceeds the other in brightness.
Specifications
Fits 1.25" Eyepieces
Density : 0.9
Transmission: 13%
1.25" Metal Cell

Buy risk-free: When it's time to trade up you'll get the most value for your used gear.