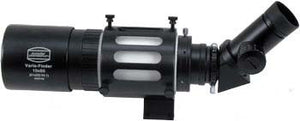 Description
The 10 x 60 Vario Finder is a fine replacement for our former 8 x 50 Straight-through Finder (discontinued). This new finder is produced by Baader Planetarium and introduces many new features and functionalities.
High quality coated 61mm f/4 objective (250 mm focal length)
Coarse focusing is provided by the sliding draw tube (35 mm travel), and fine focusing is performed using the threaded objective cell with lens-locking ring (12 mm travel).
1 ¼" brass clamp ring with 3 thumb screws for interchangeable eyepieces and accessories
45° erecting prism with 1 ¼" nosepiece and T-2 thread
25mm eyepiece with variable brightness illuminated measuring reticle
Retractable dew shield
The Vario Finder system is unique in that it utilizes a high quality 2-element Zeiss designed objective and an interchangeable T-2 accessory system that will allow the included 45° prism to be switched with user-provided 90° prisms, or used in a straight-through configuration. Because of the exceptional quality of the optics, this finder will also be able to be used as a guide scope employing a variety of new 3rd party guide cameras.
This finder assembly includes a newly designed Astro-Physics custom bracket for mounting in our Quick Release Base (QRBASED). The bracket slides into the dovetail base and then tightens quickly with two thumbscrews. This provides a secure and repeatable method of attachment. It may also be attached to either of our sliding bars (7" SB0800 and 10" SB1000). A tripod adapter is also included with the finder.
The bracket assembly includes the bracket ring, alignment screws, and male dovetail base. The nylon alignment screws provide a quick and easy way to align your finder without marring its finish. Note: AQuick Release Base (QRBASED), purchased separately, is required for attachment. The illuminator uses one CR2032 coin battery (included).
Weight: 2 lb. 1 oz. (0.935 kg)

Buy risk-free: When it's time to trade up you'll get the most value for your used gear.