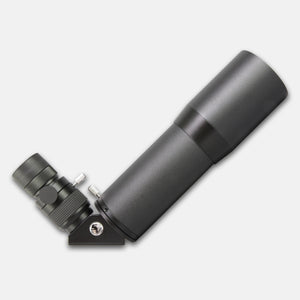 Description
Get more reach with a small lightweight finderscope with all of the features of the F50-2 series but a larger objective. This finder scope gathers 30% more light than the 50 mm finder thanks to its 60 mm f-3.75, fully multi-coated objective.  At only 23 ounces, this finderscope is lighter than competitive 50 mm finders! This finder-scope works with all of our standard 50 - 60 mm ring systems except the clamshell. The 60 mm finder-scope comes in a neutral matte black finish that goes well with any telescope regardless of color.
Included with each finderscope is our standard  23 mm, fully multi-coated cross hair eyepiece with wide crosshairs, 1.25" helical  focuser, rotating back (requires some finder re-alignment after rotation) and a fully multi-coated correct image erecting prism. The 60mm finderscope has a tube diameter of 63.5 mm.
Note: This is the finderscope only. 

Buy risk-free: When it's time to trade up you'll get the most value for your used gear.