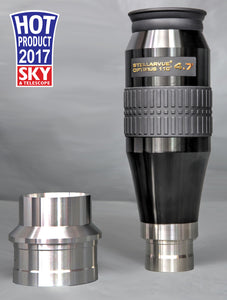 Description
Introducing the Stellarvue Optimus eyepiece series. This eyepiece is ideal for higher power work on planets and double stars since it is very sharp, contrasty and has an extreme 110 degree field of view. The 4.7 mm is ideal for those steady nights when you want to boost the power up on planets and observe fine details like the festoons on Jupiter. This eyepiece will do it while maintaining the high contrast that Stellarvue telescopes are known for. 
A 110 degree field of view provides the user with almost 2 times the area of an 82 degree eyepiece. When using hand driven alt-azimuth mounts this generous field will be appreciated. The eyepiece offers a generous 15 mm of eye relief and has a standard foldable rubber eye cup. Each of the eight elements are fully multi-coated, edge blackened and the lens barrel and baffles are similarly dark black. All of these factors add up to create an extremely contrasty eyepiece that is free of unwanted reflections, flaring or ghosting. 
We recommend this as the ideal lunar, planetary and double star eyepiece as well as an excellent deep sky eyepiece for smaller DSO's.

Buy risk-free: When it's time to trade up you'll get the most value for your used gear.