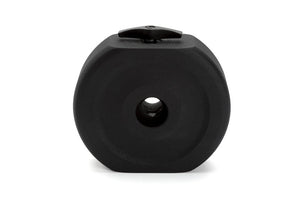 OVERVIEW
Additional 12 lb. counterweight for the Celestron Advanced VX Mount.
Designed to match standard Advanced VX counterweights.
Sturdy lock knob keeps the counterweight safely on the shaft.
If you are loading extra equipment on your Celestron Advanced VX Equatorial Mount, you may need additional counterweights.  This anodized counterweight is made for the 20 mm Advanced VX counterweight shaft, and weighs 12 lb., or 5.4 kg.  A sturdy knurled knob locks the counterweight safely in place.
This counterweight is designed for any telescope system that uses the Advanced VX Equatorial Mount. It can also be used on the Advanced CG-5 GT mount.

Buy risk-free: When it's time to trade up you'll get the most value for your used gear.