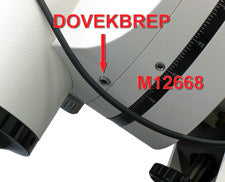 Description
Recommend Buying Two
If you operate your mount remotely and are concerned about cables snagging on the RA clutch knobs, you may wish to remove them and substitute our modified set screws. Please do not attempt to install standard set screws, since they must be a particular length and profile to work properly. If you install the modified screws, you will have to use the 5/32" Allen-head wrench from the set included with your mount to loosen and tighten them. Please tighten evenly with respect to the opposing clutch knob and do not over tighten. These set screws are only necessary for the side of the mount that has the cable. The normal clutch knobs will remain on the other side. Please note that each mount requires only 2 modified clutch set screws.
The illustration also shows the DOVEKBEP, another option for snag-free operation of your mount.
Mounts:
All 1200 mount models (DA, QMD, SMD and GTO) that have been produced.

Note: This is an optional item and was not included with 1200GTO purchases.
Please note that shipping on this item is extra.

Buy risk-free: When it's time to trade up you'll get the most value for your used gear.