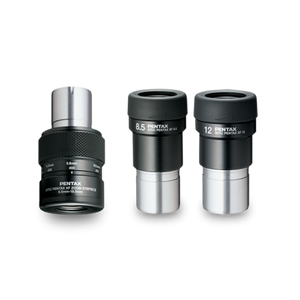 Description
Developed for exclusive use with the compact PF-65ED and PF-645EDA spotting scopes, the smc PENTAX XF series offers a choice of three distinctive eyepieces: two unifocal models with a long eye relief and a wide angle of view, and one zoom model with a 20-60X variable magnification range. When the rotatable eyecup is removed, they feature an adapter-mounting screw (30.5mm in diameter with a 0.5mm pitch for the unifocal models, and 43mm in diameter with a 0.75mm pitch for the zoom model).
Specifications
Product name

smc PENTAX XF12

smc PENTAX XF8.5

smc PENTAX XF ZOOM EYEPIECE
6.5mm-19.5mm

Lens Structure

6 elements in 4 groups

Attachment Diameter

31.7mm

Length & External Diameter

78 x 43mm

83 x 43mm

88 x 50mm

Weight

155g

150g

240g

Screw Diameter for Adapter

M30.5 P=0.5

M30.5 P=0.6

M43 P=0.75

Buy risk-free: When it's time to trade up you'll get the most value for your used gear.