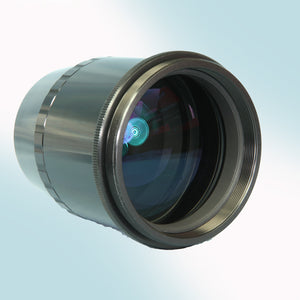 Description
Stellarvue Large Chip flattener for Feather Touch 3" Focuser

This large photographic field flattener is made for our 102 mm - 130 mm refractors. It threads to the rear of the Feather Touch 3" focuser. This flattener is made for cameras that have the 2.156-24 camera attachment.
It is essential that the flattener be placed at a precise distance from your cameras CCD chip. This is referred to as the cameras "backfocus." A camera's backfocus is the distance from the attachment thread to the ccd chip. All ccd cameras have different backfocus distances. This distance is increased when adding filter wheels and/or off axis guiders. For this reason, we work with our customers to help them get the correct spacing. You can save yourself a lot of time and frustration by merely calling us.
This flattener works as is with the SV130 when there is about 52 mm of backfocus to the CCD chip. It works with the Stellarvue 102 when you have about 55 mm of backfocus. If a custom adapter is needed to achieve the proper spacing between the field flattener and the camera, we can make this for you.

Buy risk-free: When it's time to trade up you'll get the most value for your used gear.