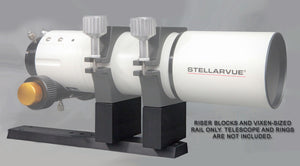 Description
Riser blocks are used when mounting telescopes to rails when more room is needed between the rail and the telescope. This is particularly important with our smaller telescopes (SV70T, SV80ST) when a camera is mounted to the rear and it cannot be balanced on the mount. Using Stellarvue Riser Blocks, a longer rail may be used that extends to the rear and allows adjustable travel to attain balancing over the focuser. The rail does not hit the focuser since the riser block lifts the telescope 2.5" above the rail. 
This set includes two riser blocks (RB002SET) and a Vixen-sized rail that is 10.5" long. (Note: If your system needs a Losmandy-sized rail, use the RB002L instead). 

Buy risk-free: When it's time to trade up you'll get the most value for your used gear.