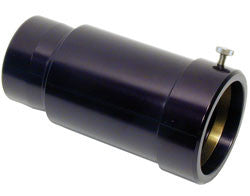 Description
Use this extension when you require additional length. It slips into a 2" opening and can be used with 2" accessories or the 1.25" adapter. It features Astro-Physics' brass locking ring The overall length is 4.8" and it is threaded for 48 mm filters.
This extension has a net spacing distance of 3.6" (91.4 mm).

Buy risk-free: When it's time to trade up you'll get the most value for your used gear.