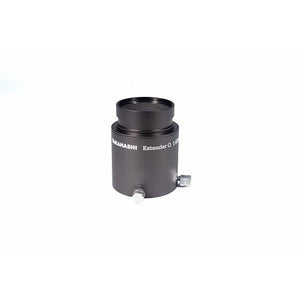 Description
The Takahashi Extender QE 1.6X is a combination optical extender and field flattener designed specifically for the FSQ-106EDX4 telescope. The five optical element design allows for high magnification with a flat field and little chromatic aberration. The Extender QE is ideal for high magnification lunar and planetary visual observation, as well as CCD imaging.  
The Extender QE features a 2 inch barrel.
Specifications
Telescope with Adapter

2" QE-1.6X EX with FSQ-106EDX4

Adapter Part Number

TKA36595

Aperture

106mm

Resolution

1.09"

Limiting Magnitude

11.9

Light Gathering Power

229X

Focal Length

850mm

Focal Ratio

f/8.0

Image Circle Diameter

 44mm

Optical Type

Doublet ED Quadruplet

Tube Diameter

125mm

Tube Length (With Lens hood retracted)

675mm
(580 mm)

Tube Weight

7.0kg

Recommended Finder

7x50

Metal Back Distance

117.5 mm

Buy risk-free: When it's time to trade up you'll get the most value for your used gear.