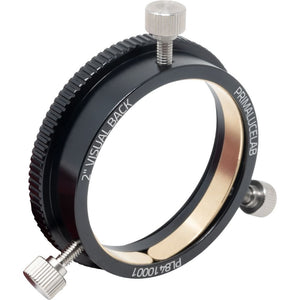 Overview
If you want to use your telescope visually with ESATTO or if you want to connect a camera with a 2" nosepiece, just connect this 2" visual back to the M56 (2")/M81 (3") thread of the focuser draw tube. This adapter has an internal brass compression ring to avoid scratching the inserted nosepiece as well as 3 locking screws (120° separation) for a perfect fit, even for heavy cameras or accessories.
Optical length of the 2" visual back for ESATTO 2" is 12,5mm.

Buy risk-free: When it's time to trade up you'll get the most value for your used gear.