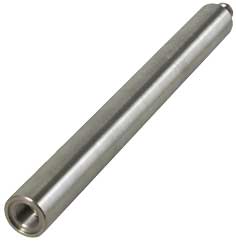 Description
Like its predecessors, this 1.875" diameter counterweight shaft is precision machined from solid 303 stainless steel. It is both beautiful and robust and has a soft luster that belies its rigid strength. This 17.2 lb. (7.8 kg) shaft can hold up to eight 30 lb. counterweights (240 lb. total - Note: This exceeds 1600GTO recommended capacity.). It is compatible with our 5 lb. (5SCWT), 10 lb. (10SCWT), 18 lb. (18SCWT), 24 lb. (24SCWT) and 30 lb. (30SCWT188) counterweights.
This shaft is recommended for: 1600, 1100, 1200 (all models), 900 except older 900 mounts with shaft encoders.
Designed to be used with Machined Safety Stop (M12676)
Important Mount Balancing Note: Please click this Pdf link to understand the proper way to position counterweights when balancing your mount.

Buy risk-free: When it's time to trade up you'll get the most value for your used gear.