The QHY42PRO-BSI uses the Gsense400 Scientific CMOS sensor with extraordinary 95% peak QE, 79% UV QE, and very good NIR response, plus an extremely low read noise of 1.7e-.  The QHY42 has relatively large 11um pixels in a 2k x 2k array.  The sensor size is 22.5mm x 22.5mm yielding a good field of view even at longer focal lengths. This camera is ideal for astronomical and biological science research.
QHYCCD also supplies the QHY42PRO-FSI version.
Description
The standard version has 2-stage TE cooling and a USB3.0 interface. The camera has three readout modes: single 12bit high gain channel output, single 12bit low gain channel output. Dual 12bit high gain and low gain output mode.  Single channel output is 24FPS at 12-bits.  Dual-channel HDR output is 12FPS at 12-bits.
QHY42PRO has the GPS / Trig Signal interface. It can output the precise exposure starting/ending waveform for external measurement.  It can also connect with QHYCCD GPS-BOX to measure it. The QHYCCD GPS-BOX will output the timestamp onto the image head of each frame.
Models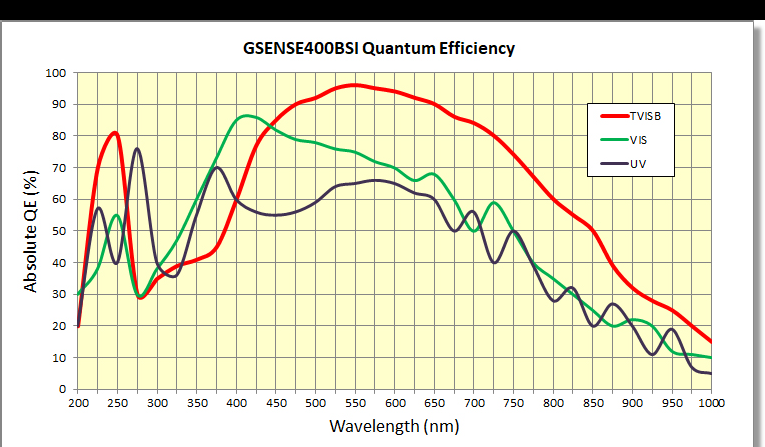 The QHY42PRO is a cooled scientific CMOS camera with extremely low (1.6e-) read noise. We also offer the QHY42-BSI in a UV enhanced version. The sensor array is 2048 x 2048 with relatively large 11um pixels and 89ke- full well capacity. The QHY42PRO is capable of high frame rates up to 24FPS at full resolution.
For BSI verson, there is three type of the coating of the sensor. TVBIS,UV,VIS. The TVBIS is the most popular type and it has the best QE of 95%. The UV version has a peak QE of 76% on the 275nm.  While the TVBIS version has also a high UV QE at 240nm. For UV application. Both TVISB and UV is possible to be use. You can select it according the QE curve. And the TVISB version has lower dark current than UV version. VIS version is not so popular and sometimes the sensor factory does no stock. So if you need the VIS version you need to quote QHYCCD for details.
The first version QHY42 is released in early 2018. And now we will release the enhanced version QHY42PRO. The different of QHY42 and QHY42PRO is that QHY42 only support the single ADC channel output (which called STD mode in the datasheet of Gsense400 , and 24FPS for 8bit/12bit . While the QHY42PRO support both STD mode and the dual channel ADC mode (HDR mode). The dual ADC can work together to sample the same pixels. And output two images. One is high gain and another is low gain. Which can enlarge the dynamic of the output data. The QH42PRO HDR mode will output the 4096*2048 image. Which consist two 2048*2048 image.   QHY42PRO also support the remote FPGA upgrade function via USB port. In future if there is any upgrade of the FPGA code, you can upgrade it directly without send back to factory to upgrade.
Specifications
Model
QHY42PRO-BSI / QHY42PRO-UV /QHY42PRO-FSI
COMS Sensor
Gpixel GSENSE400 BSI / UV / FSI
Pixel Size
11um x 11um
Sensor Surface Glass
Clear Glass / UV enhanced AR coating
Effective Pixel Area
2048 x 2048
Effective Pixels
4 Megapixels
Effective Image Area
22.5mm x 22.5mm
Fullwell
89ke-
A/D
Dual 12-bit A/D (High Gain Channel and Low Gain Channel) *

 

Note: The QHY42 camera in stock is single channel outputs, it support 2048*2048 8/12bit single channel image output. The QHY42PRO camera has dual ADC channel with 2048*2*2048 8/12bit HDR image output.  The QHY42 user can be upgraded without cost after QHY42PRO released.

Sensor Size
Typical 2-inch
Full Frame Rate and ROI Frame Rate
QHY42
24FPS@2048*2048 12bit (STD mode)
24FPS@2048*2048 8bit  (STD mode)QHY42PRO
24FPS@4096*2048 dual 8bit  (HDR mode)
12FPS@4096*2048 dual 12BIT (HDR mode)
48FPS@2048*2048 8bit (STD mode)
24FPS@2048*2048 12BIT (STD mode)
Readout Noise
1.7e-
Dark Current
TBD
Exposure Time Range
20us-300sec
Anti-Glow Control
Yes. Can be enabled and disabled. Significant Glow Reduction
Shutter Type
Electric Rolling Shutter
Computer Interface
USB3.0
Built-in Image Buffer
128MByte(512Mb) DDR2 memory in QHY42/PRO
Cooling System
Dual Stage TEC cooler(-35C below ambient)

 

(Test temperature +20°)

Anti-Dew Heater
Yes
Telescope Interface
M54/0.75 female thread on the fast installer/center adjust ring
Optic Window Type
AR+AR High Quality Multi-Layer Anti-Reflection Coating
Back Focal Length
17.5mm(±0.5)
Weight
735g
Curves

Buy risk-free: When it's time to trade up you'll get the most value for your used gear.