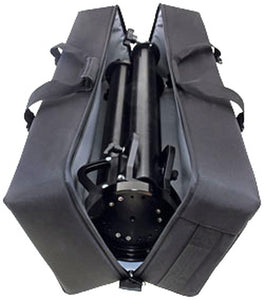 Description
Astro-Physics is pleased to offer, not one, but three different options for transporting and storing various piers and tripods that they offer. This is a description of the in-between size that fits the Losmandy Folding Heavy-Duty Tripod (LMFHDT-AP) and for piers and tripods up to 40.5" in length when folded. It will carry the Eagle and Eagle-EZ piers configured in their tallest positions (no extra extensions) with their Tray Support Bars (TRAYSB and TRAYSB1) attached.
The Berlebach Planet Tripod with Tripod Adapter (AWTBER2) for the Mach1 will also fit comfortably and safely in this case.
The 42" case, like its longer and shorter versions, provides excellent protection for your very expensive piers and tripods.  It adds convenience when carrying and packing your gear.
These attractive, padded-nylon carrying cases are very durable. They provide your tripods and piers with the protection it needs to look new for many years to come. They have a Velcro grip closure on the handles, as well as loops for attaching a shoulder strap (not included). Handholds are also stitched into both ends of the cases for easy handling.
The lightweight cases are solidly constructed in the USA. They are covered with a black colorfast "ballistics material" that is puncture and abrasion resistant. Furthermore, this material is water resistant and fire retardant. Protect your investment with these cases.
Specifications:
Dimensions: 40.5" x 11" x 11" (I.D.), 42" x 12" x 12" (O.D.) 
Weight: 5.0 lb. (2.3 kg)
If this case does not meet your needs, you may wish to consider these alternatives:
32" Case (C0031)
52" Case (C0052)

Buy risk-free: When it's time to trade up you'll get the most value for your used gear.