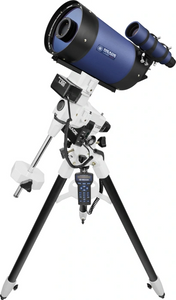 6" f/10 Advanced Coma-Free Optics - 1524mm focal length
Ultra-High Transmission Coatings (UHTC)
LX85 equatorial mount and tripod with GoTo slewing and tracking, and AudioStar controller for automatic pointing to over 30,000 night sky objects
Requires 12v DC power source, or AC-DC power inverter
Includes 26mm Super Plössl eyepiece, 90 degree star diagonal, 8x50 optical finder scope with bracket, 2" diameter steel leg tripod, and more!
Description
The Meade 6" f/10 LX85 ACF telescope with mount and tripod hosts a number of high end features, all in a very compact package. The Advanced Coma-Free (ACF) design provides a tack sharp image with no coma distortion, inherent in some other designs. The ACF system also provides for an extremely flat field of view, perfect for astro-imagers with larger camera sensors.
Ultra-High Transmission Coatings (UHTC) provide beautifully bright images of deep-sky objects, with excellent contrast of surface features found on the moon and planets. The optics feature an oversized low-expansion Borosilicate primary mirror and Schott® Borofloat® glass corrector plate. The corrector plate produces zero diffraction spikes because there are no secondary spider vanes, like found on some other designs such as Newtonian reflectors or Ritchey-Chretiens.
The optical path and components of the ACF telescope design
Designed and Manufactured in North America, and the ACF primary, secondary and corrector plate glass blanks are manufactured in the USA exclusively for Meade.
The LX85 mount features fully automated GoTo slewing to (and tracking of) over 30,000 objects in the night sky. This stable mount can impressively handle slight load imbalances with ease. With its built-in integer gearing motor drive, you'll be able to track through long exposures using Meade's Smart Drive feature for recording permanent periodic error correction (PPEC). Seamlessly image the best parts of the night sky without having to worry about performing a meridian flip. The LX85 mount also includes an integrated autoguider port to readily connect to your autoguider camera, making your astro-imaging experience easy and straightforward.
With the included AudioStar hand controller you have easy access to over 30,000 objects that you can view with a simple press of a button! AudioStar Astronomer Inside technology features a built-in speaker that plays over four hours of educational content about the celestial objects you view!
The Meade AudioStar features audio files and an internal speaker. This computerized celestial object locating system plugs into the telescope's handbox port allowing a quick telescope alignment. Once aligned with the sky, the AudioStar is ready to take you to any object in the over 30,000 object database. In addition to GoTo and tracking capability, the AudioStar permits a wide array of fascinating and educational functions such as multiple Guided Tours, digital positional readouts, the ability to link with a PC using optionally available software and cord, and much more.
The long 1524mm focal length is housed in an optical tube that is less than 17" long, and weighs just 9.9 lbs. A Vixen-style dovetail rail is attached to the bottom of the telescope optical tube, meaning it attaches quickly and easily to the Vixen-style cradle of the LX85 mount. The telescope includes a Meade 26mm Super Plössl eyepiece, 1.25" mirror star diagonal, 8x50 finder scope, tripod accessory tray, 25' DC power cable, 9-pound counterweight, and AutoStar Suite software available as a download. Weighs 45.5 lbs fully assembled.
Warranty:
Limited Warranty against defects in materials or workmanship for two years from date of purchase. This warranty is provided by Meade for the benefit of the original retail purchaser only. For complete warranty details contact Meade at 800-626-3233.
Warning:
Please note this product was not designed or intended by the manufacturer for use by a child 12 years of age or younger.
Specifications
Best for viewing: Lunar & bright deep sky
Best for imaging: Solar, lunar, planetary & Messier objects
Astro-imaging capability: Lunar, planetary & long exposure
User level: Intermediate
Optical design: Advanced Coma-Free (ACF)
Optical diameter: 152mm
Focal length: 1524mm
Focal ratio: f/10.0
Eyepieces: Super Plossl 26.0mm (1.25")
Magnification with included eyepieces: 59x
Resolving power: 0.77arc*sec
Lowest useful magnification: 21x
Highest useful magnification: 300x
Highest theoretical magnification: 300x
Limiting stellar magnitude: 13.5
Optical quality: Diffraction limited
Finder scope: 8x50
Focuser: Internal
Diagonal degrees: 1.25" 90° Mirror Star
Mount type: Equatorial
Tube material: Aluminum
Length of optical tube: 16.5 in.
Weight, optical tube: 9.9 lbs.
Additional included accessories: 26mm Super Plossl eyepiece, 8x50 finder scope, 25' DC power cable
Other features: ACF optics for coma-free images, Smart Drive w/ Permanent Periodic Error Correction, AudioStar Controller with multiple guided tours
Warranty: Two year

Buy risk-free: When it's time to trade up you'll get the most value for your used gear.