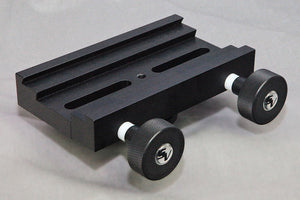 Description
This is a combination shoe that will hold either style mounting plate or rail. The wide jaw will hold the standard Losmandy style D rail and the narrower jaw holds the Vixen style rail. This is an American made, spring loaded shoe with various 1/4" mounting holes and slots on the bottom. This is the same spring loaded, dovetail shoe used on the Stellarvue M2C mount head.
The TDLV is 6" long and it has a 1/4-20 threaded hole in the center bottom. Two 1/4" slots allow the shoe to be mounted with two 1/4-20 socket cap head screws that are between 1 1/4" and 5" apart.

Buy risk-free: When it's time to trade up you'll get the most value for your used gear.