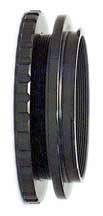 Description
Thread this adapter into place, then use the ring shown on the right-hand side of the adapter to lock your camera into position after you have framed your image. This allows you to rotate the camera to achieve your desired composition.

Applications:
Telecompressor - This adapter allows you to use the Telecompressor (27TVPH) with your Pentax 6x7 camera. Your image circle will be approximately 2" fully illuminated. Astro-Phyiscs suggest that you review the exploded diagram (PDF file) showing the telecompressor with a variety of accessories.

To couple scopes that don't need a field flattener to the Pentax 6x7 - Thread directly onto your Astro-Physics 2.7" focuser, 4" focuser, or any focuser drawtube that measures 2.740" I.D. with 24 TPI in order to use a Pentax 6x7 without a field flattener. This is appropriate for our older 6" f9 and 6" f12 scopes, however, a field flattener is needed for the shorter focal lengths to obtain the best results.
Please note: This adapter uses the Pentax 6x7 INNER bayonet and will only attach to a Pentax 6x7 camera. This adapter can NOT be used with our CCD adapters (A1260, A1261, A1262, A1263, & A1265); with our STL series adapters (ADA671 & ADDA672); or with our SLR camera adapters for the field flatteners (67RLEOS, 67RTxxx etc.).

Buy risk-free: When it's time to trade up you'll get the most value for your used gear.