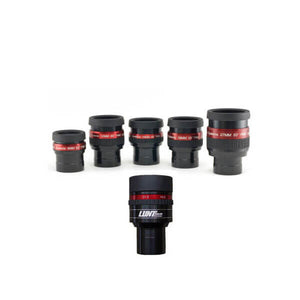 General Features:
Lunt flat-field eyepieces are coated with 0.1% anti-reflective coatings – the same coatings we use on our etalons!
Use these eyepieces for nighttime as well as when viewing the Sun.
1.25″ barrel.  Offered in five focal lengths as well as a Zoom model.
DESCRIPTION
Each Lunt flat-field 1.25″ eyepiece is coated with the same 0.1% anti-reflective coatings as our etalons! The anti-reflective coatings reduce ghosting and glow, and aid in providing a darker background. These eyepieces can be used for nighttime astronomy as well as solar observing.
The Lunt Zoom Eyepiece offers what we feel are the ideal magnifications for the standard focal lengths of our solar telescopes.  It is an ideal first-look eyepiece that will allow you to quickly view the Sun at a lower magnification and then zoom in when you find interesting details.  The Lunt 7.2 mm – 21.5 mm Zoom is a great little eyepiece at a very affordable price point.
Specifications
Lunt 7.2 mm – 21.5mm Zoom Eyepiece
Focal length: 7.2 mm – 21.5 mm
Barrel size: 1.25″
Diameter: 47 mm
Height: 82 mm
Eye relief: 15 mm
Lenses / Groups: 7 lenses / 4 Groups
Field of View: 7.2 mm – 53° – 21.5 mm – 40°

Buy risk-free: When it's time to trade up you'll get the most value for your used gear.