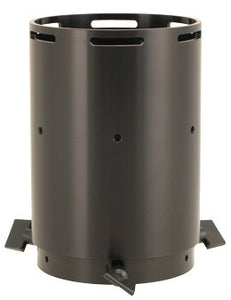 Description 
This beautifully machined extension for your 6" Eagle Adjustable Folding Pier provides an additional 8 inches in height to your versatile pier. Each extension is made from a single piece of thick walled aluminum with an overall length of 8 15/16". The extension is extremely rigid and will not compromise the stability of the 6" Eagle Adjustable Folding Pier.
The richly black anodized extension features 6 slots at the top for attaching the pier adapter of the Mach1GTO or of the 400, 600 or 600E series mounts. By including drilled and tapped holes every 60 degrees around the extension's base and center, the extension allows positioning of these mounts with one of the pier's legs pointing toward or away from your respective pole according to your personal preference.
With the 6" Eagle Pier Extension, it is possible to achieve a pier height of 44 inches with the legs brought in to a 36" circle footprint. The picture at right shows the pier set at 40" high with the legs fully extended.
The 8" Extension can also be used in the Astro-Physics 6" diameter portable piers as well as in the tripod adapter (ADATRI). What a versatile and cost-effective way to add necessary height to your current set-up!
Note: A second extension can be added, but we recommend that you only do so with the legs fully extended to their 48" circle footprint (net gain is 4"), and that you not balance a large (especially a long) instrument on top.
The 8" Extension includes a set of three (3) plastic knobs (shown). You may wish to upgrade with our elegant 1/4-20 Machined Knob Kit (M1485KBKIT).
Dimensions: 8 15/16" overall length; 8" extension length; 6 3/16" diameter.
Weight: 3 lb. (1.4 kg)

Buy risk-free: When it's time to trade up you'll get the most value for your used gear.