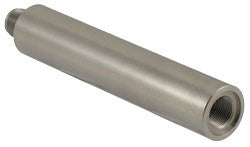 This optional Counterweight Shaft was designed specifically to fit into the declination axis of the Mach1GTO to create a very compact configuration for travel. The shaft has a usable length of 9.675". A 5 lb. Counterweight (5SCWT) was also designed to add versatility and flexibility for the Mach1GTO's lighter loads. This shaft is a "must-have" if you have a second Astro-Physics mount and wish to swap counterweights between the two!
The threads on the mount end of the shaft have a lead-in to help prevent cross threading. We machined matching female threads into the far end of the counterweight shaft, to accept the convenient 8.5" extension (M12675) so that you don't have to order a longer shaft for a larger scope. The washerless Safety Stop (M12676) is a required accessory for this counterweight shaft.
Like all our shafts, this 1.875" diameter counterweight shaft is precision-machined from solid 303 stainless steel. It weighs 7.5 lb. (3.4 kg) and its 9.675" usable length can hold up to three 18 lb. and one 10 lb. counterweights (64 lb.) It is compatible with our 5 lb. (5SCWT), 10 lb. (10SCWT) and 18 lb. (18SCWT) counterweights.
Note: The larger diameter of the 24 lb. and 30 lb. counterweights do not make them compatible with the Mach1GTO.
We have added a 5/16-18 x 3/4" Socket Head Cap Screw to the end of the shaft to make it easier to remove from the declination axis of your Mach1GTO after stowing it inside for compact transport. Since the shaft doesn't leave much gripping surface on the other end, we added this feature so that your shaft won't end up "stuck" inside the declination axis. Just use the 1/4" Hex Key supplied with your mount and turn as shown.
This shaft is recommended for: the Mach1GTO. Although it was designed for the Mach1GTO, it can also be used as a lightweight "shorty" for the 1100 and 1600 or the 900 and 1200 mounts and will fit those mounts even when they are equipped with the shaft encoders of digital setting circles. It can also be used with the 600 series mounts, but NOT if the mount is equipped with the aforementioned shaft encoders.
Important Mount Balancing Note: Please click this PDF link to understand the proper way to position counterweights when balancing your mount.

Buy risk-free: When it's time to trade up you'll get the most value for your used gear.