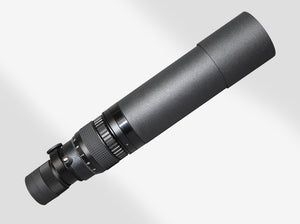 Description
The F050M3 finderscope is similar to our F050G guidescope in almost every way, except it includes our E3023R reticle eyepiece so it can be used visually "out of the box". This finderscope weighs 18 ounces and works with all of our standard 50 mm ring systems. This finderscope employs a high quality 210 mm focal length, broadband fully multi-coated objective lens as in our top rated F50M2 finderscopes. Other fittings are black anodized. Main tube is interior painted in ultra flat black. Focuser is lubricated for improved stability and smoothness. Tube is 54.5 mm in diameter, dew shield is about 58 mm in diameter. The length is 9 1/4" - 9 3/4". 
This finderscope can also be used as a guide scope. It features a 1.25" non-rotating helical focuser and a standard 1.25" compression ring unit with an external M42 X .75 t-thread. So one can either use the camera's t-thread or a 1.25" nosepiece. 
Some guide cameras have a very short backfocus distance. If you cannot attain focus with your guide camera and need to focus beyond the maximum extension, you may purchase additional STE52 extension tubes to increase the distance between the focuser and objective lens. 

Buy risk-free: When it's time to trade up you'll get the most value for your used gear.