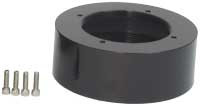 Description
Designed to be used with: Dedicated CCD Field Flatteners (175FF, 160FF and 13035FF) and Telecompressor Correctors (175TCC, 160TCC, 155TCC and QuadTCC).


No sooner than we had finished production of the first ADATCC1 adapters, SBIG came out with a new 8-position filter wheel for the STL series cameras. This filter wheel, the SBIG FW8-STL, was not only bigger around, it was thicker, so we went back to the drawing board and designed a shorter version so that the critical spacing between optics and CCD chip could be maintained. This version, the ADATCC3 has the same robust machined construction and rich, black anodizing of the ADATCC1. Use this adapter ONLY if you have an STL camera with the 8-position filter wheel.
This adapter has a net spacing distance of 1.36" (34.5 mm).
Note: This adapter is similar to adapters being made for use with all of our other 2.7" and 4" Prime focus Field Flatteners and to use with the 2.7" to 6x7 Outer Bayonet Adapter (ADA2767). These adapters are NOT interchangeable.
What's Included:
Adapter for SBIG STL Series Camera with Eight-Position Filter Wheel Adapter for CCD Field Flatteners and Telecompressor Correctors
Four 6-32x1/2" socket head cap screws for attachment to the STL series camera
Documentation 
175 & 160 CCD Field Flattener Spacing Requirements
0.76x CCD Telecompressor Corrector Spacing Requirements

Buy risk-free: When it's time to trade up you'll get the most value for your used gear.