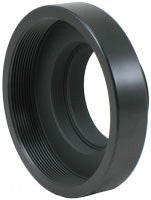 Description
Designed to be used with: Dedicated CCD Field Flatteners (175FF, 160FF and 13035FF) and Telecompressor Correctors (175TCC, 160TCC, 155TCC and QuadTCC).

This adapter is specifically designed to attach the above Field Flatteners and Telecompressor Correctors to QSI's 500 and 600 series WSG medium format cameras. It has been precisely machined to maintain the critical spacing to the focal plane at the perfect 80.8mm. It utilizes the larger thread size of the QSI 2.156" adapter plate in order to minimize vignetting when using fast focal ratio telescopes. (2" nosepieces and T-threads are often too restrictive for today's larger sized detector chips when used with fast scopes.)
It also provides a rigid method of attaching the camera to the optical system. This ensures the elimination of flexure from this part of the system.
This adapter has a net spacing distance of 1.11" (28.2 mm).
 
Refer to the following diagrams for additional information regarding spacing:
175 & 160 CCD Field Flattener Spacing Requirements
0.76x CCD Telecompressor Corrector Spacing Requirements

Buy risk-free: When it's time to trade up you'll get the most value for your used gear.