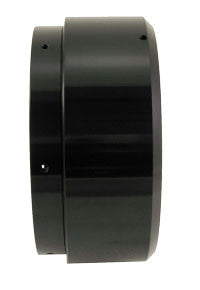 Description
This adapter was designed for owners of our 155EDFS StarFire refractor who are looking more focuser in-travel. Most of the 155EDFS were originally shipped with a longer adapter.
This adapter has a net spacing distanceof 2.0".
Additionally, this adapter can used to replace a 4" focuser in a 155EDF or similar Astro-Physics EDF refractor, for those who wish to step down to an A-P 2.7" focuser with an external thread. The collar end bolts into the tube via the six 8-32 tapped holes. Our 2.7" standard and FeatherTouch focusers simply thread into the internal female threads on the eyepiece end of the adapter. Please note this adapter cannot be used for the 130EDF Gran Turismo or 105mm Traveler focusers.
For the amateur telescope builder, this adapter also facilitates adding an Astro-Physics 2.7" focuser to a homemade instrument. Outer diameter of the attachment ring is 5.395".

Buy risk-free: When it's time to trade up you'll get the most value for your used gear.