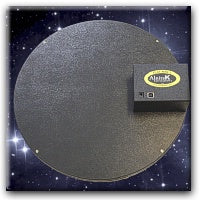 Description
Alnitak Astrosystems Devices
For those on a budget who don't need the robotic features of the Flip-Flat, the Flat-Man is an excellent choice. Employing the same EL lamp technology as in the Flip-Flat and powered by a single USB cable, the Flat-Man is simple to use.  The Flat-Man is manually placed on the vertically oriented OTA and the lamp brightness levels can be  controlled via the attached PC.
OTA's up to 6-inch (155mm) are supported with the Flat-Man.  For larger scopes, the Flat-Man L is available for manual or remote flat field calibrations.  
The Flat-Man L is the big brother of the Flat-Man, for telescopes in the 8-12.5" range. The Flat-Man L uses the same electroluminescent technology as our other products, and can either be manually placed on the vertical OTA or hung perpendicular (using one of the #6-32 cover screw holes) to the OTA's park position for flat field imaging.
Our Windows XP software will light and control the brightness of the Flat-Man L. Comes with USB cable and power supply.
The Flat-Man L is an affordable means to achieve excellent flat fields for telescopes up to 12-1/2" diameter.
Specifications
Lamp Diffuser Diameter:    14" (355mm)
Lamp Illumination Diameter:    13"  (330mm)
Maximum Recommended OTA:    12-1/2" (315mm)
Control Box Dimensions:    2.25" x 3.2" x 4.2" (57 x 80 x 106mm)
Weight: 3.5 lbs.  (1.6 kg)
Power requirements: 12VDC for illumination, 5VDC for control (USB provided)
Minimum OTA/dewshield OD: None
Maximum OTA/dewshield OD: 14"
Mounting Holes:  Eight #6-32 threaded holes available,
Alnitak Software Compatiblity:  Windows XP, Vista, Windows 7 and 8.
Command Line Program:  AACmd.exe

The #19058 Flat-Man L package includes the 13" lamp with attached controller, 12VDC power supply with wall cord, USB cable, and software.  Fully illuminated lamp is 13" (330mm) in diameter.

Buy risk-free: When it's time to trade up you'll get the most value for your used gear.