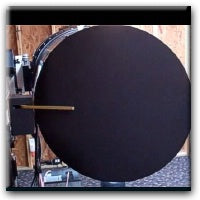 Description
Alnitak Astrosystems Devices
For those on a budget who don't need the robotic features of the Flip-Flat, the Flat-Man is an excellent choice. Employing the same EL lamp technology as in the Flip-Flat and powered by a single USB cable, the Flat-Man is simple to use.  The Flat-Man is manually placed on the vertically oriented OTA and the lamp brightness levels can be  controlled via the attached PC.
OTA's up to 6-inch (155mm) are supported with the Flat-Man.  For larger scopes, the Flat-Man L is available for manual or remote flat field calibrations.  
Automated Dust Covers for Remote Installations
Building on the success of the Alnitak Astrosystems Flip-Flat, Optec has designed two new products:  a robotic Dust Cover for larger OTA's in remote locations, and the Flip-Mask, remotely controlled Bahtinov Mask.
A number of our customers have asked that we offer the Remote Dust Cover as a simple solution for remote observatories in dusty environments.  With this new device and proven Alnitak software, automated scripting programs such as ACP, CCD Autopilot, and Maxim D/L can be configured to automatically open the telescope dust cover at the beginning of the evening and close it again in the morning. 
Specifications
Dust Cover Diameter:    Customer Request - up to 24" (60 cm),
Control Box Dimensions: 2.25" x 3.15" x 4.2"  (57 x 80 x 106mm)
Weight:     Approximately 1.1 lb. (0.5 kg)
Lamp Pivot Arm:    6.1" (155mm) length
Range of Pivot Arm:  95-degrees,
Power requirements:  5VDC provided by USB interface,
Alnitak Software Compatiblity:  Windows XP, Vista, Windows 7 and 8.
Command Line Program:  AACmd.exe

The #19075 Remote Dust Cover package includes the motor controller, cover arm, OTA bracket, industrial zip straps to attach to OTA dew shield, USB cable, and software.  Cover diameter must be specified in notes when ordering. 

Buy risk-free: When it's time to trade up you'll get the most value for your used gear.