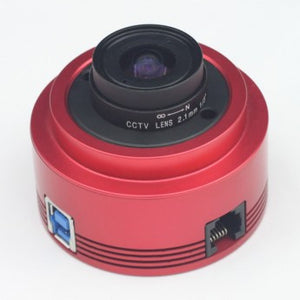 Description
The ZWO ASI 224MC is a one-shot color astrophotography camera featuring the Sony IMX224 CMOS sensor. This also features a USB 3.0 connection allowing quick downloads and up to 299fps with region of interest support. The low read noise on this camera make this a great choice for planetary, lunar, and solar imaging, and is also effective as a deep sky imaging camera.
Specifications
 

Sensor: Sony 1/3" IMX224 Color CMOS
 Resolution: 1.27M

 

Image Array: 1305 x 977

 

Pixel Size: 3.75um

 

Max Frame Rate at Full Resolution: 150 FPS

 

Max Frame Rate at 640 x 480: 299.4 FPS

 

Window: AR-Coated

 

Guide Port: ST4

 

Shutter: Global

 

Exposure Range: 32us - 1000s

 

Read Noise: 1.5e

 

Gain Range: 0 - 60 db

 

Interface: USB3.0/USB2.0

 

Bit Rate: 12bit output (12 bit ADC)

 

Adapter: 2" to 1.25"/M42 x 0.75

 

Dimensions: 62 mm Diameter by 36 mm

 

Weight: 120g
 Working Temperature: -5ºC - 45ºC
 Working Relative Humidity: 20% - 80%

Buy risk-free: When it's time to trade up you'll get the most value for your used gear.