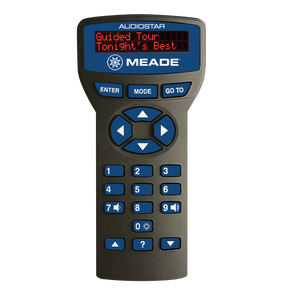 Description
The Meade AudioStar features audio files and an internal speaker. This computerized celestial object locating system plugs into the telescope's handbox port allowing a quick telescope alignment.
Once aligned with the sky the AudioStar is ready to take you to any object in the over 30,000 object database. In addition to GOTO and tracking capability the AudioStar permits a wide array of fascinating and educational functions such as multiple Guided Tours, digital positional readouts, the ability to link with a PC using optionally available software and cord, and much more.
AudioStar Controller #07640 is compatible with the StarNavigator, ETX, LT, LX80, LX90, and LXD75 series telescopes.

Buy risk-free: When it's time to trade up you'll get the most value for your used gear.